Rev. Don Stein, a beloved pastor for more than six decades in the Edmonton Archdiocese and in Canada's North, died on Feb. 22, 2021. He was 86.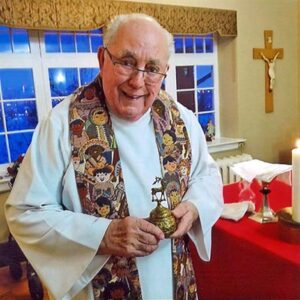 Donald Stein was born on June 4, 1934, in the Calder neighbourhood of northwest Edmonton. Stein attended Sacred Heart, St. Edmund, St. Alphonsus and later St. Joseph's Boys High School.
Stein was ordained on June 4, 1960, his 26th birthday, after study at St. Joseph's Seminary.
Following his ordination, Father Don was assigned to St. Francis Xavier Parish in Camrose. He was assigned to both urban and rural parishes, including St. Patrick's, Assumption, and St. Theresa's in Edmonton, Sacred Heart in Red Deer, St. Anthony's in Lloydminster, St. Clare Parish in Redwater and Our Lady of Perpetual Help in Sherwood Park.
Father Don's last parish was Sacred Heart in Red Deer and he helped celebrate its 100th anniversary before he retired in 2008.
His ministry also took him to Tuktoyaktuk, N.W.T. in the Diocese of McKenzie-Fort Smith where he celebrated Holy Week Masses for years.
Mourners may pay their respects at the casket from 2 to 3:30 p.m. on Sunday, Feb. 28, at Our Lady of Perpetual Help church in Sherwood Park. It will be a moving line, in an effort to allow as many mourners to pay their respects as possible. Provincial COVID-19 restrictions will be in place at the church.
Memorial vigil
A private prayer vigil follows, starting at 3:30 p.m. It will be livestreamed beginning at 3:25 p.m.:
Funeral Mass
The private funeral mass for Father Don Stein will be held on Monday, March 1 at St. Joseph's Basilica in Edmonton with Archbishop Richard Smith presiding. It will be livestreamed at 11 a.m. on YouTube: https://youtu.be/fRdXk8EOKnc
Interment will follow at St. Joachim's cemetery.
Read more about Father Don on Grandin Media.