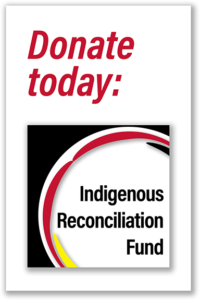 The Archdiocese has clergy serving the parishes of Our Lady of Seven Sorrows in Maskwacis, Our Lady of Mercy in Enoch, and Sacred Heart Church of the First Peoples in Edmonton; as well as their mission churches located on the Alexis Nakota Sioux Nation and the Paul Band Nation, and involved community members.
Among the events that are promoted with the communities are the feast days of St. Kateri Tekakwitha and Our Lady of Guadalupe, and the annual Lac Ste. Anne Pilgrimage, considered sacred for generations and widely known as a place of healing.
Education and creating awareness about traditional teachings and their harmony with Catholicism are also part of this ministry.
Edmonton Catholic Schools Braided Journeys: Braided Journeys Student Support Centres are committed to assisting student success by cultivating a caring, welcoming, and positive place where Indigenous students see themselves, their contributions, and their culture represented, respected, and celebrated. Each centre offers support, encouragement, and guidance throughout a student's educational journey.
---
VIDEO: What is Reconciliation? – Fr. Cristino Bouvette
We sat down with Fr. Cristino Bouvette of the Catholic Diocese of Calgary a couple months ago to talk about how we define reconciliation, and to learn from his uniquely knowledgeable perspective as a indigenous Roman Catholic priest.
Father Christino also speaks in an interview with CJAD radio in Montreal. In this eight-minute segment Father Cristino shares how he reconciles his indigenous identity and his vocation, a message for those who are struggling with their faith, and his thoughts on the Holy Father's visit.
Listen to Father Cristino on the Upfront PODCAST:
---
Bishop McGrattan speaks on responding to Indigenous issues as Catholics as a first step to reconciliation
---
Apology by the Bishops of Canada to the Indigenous Peoples of this Land
On behalf of His Eminence Thomas Cardinal Collins, Archbishop of Toronto, we share with you a video featuring Bishops from across the country reading the "Apology by the Bishops of Canada to the Indigenous Peoples of this Land." The video (bilingual) can be shared to parishes and the public via the following link: https://youtu.be/M6BazS2PEN0
---
Statements by the Catholic Bishops of Canada
---
VIDEO: Archbishop Smith responds to Statement of Apology by the Catholic Bishops of Canada
In this short video, Archbishop Richard Smith responds to the national apology issued by the Canadian Bishops, as well as a nation-wide collective financial commitment to support healing and reconciliation initiatives for residential school survivors, their families, and their communities.
---
National Day for Truth and Reconciliation (NDTR)
– Sept. 30
This day provides an opportunity for all Canadians to recognize and commemorate the legacy of residential schools, and commit to working for truth and reconciliation in the relationship between Indigenous and non-Indigenous peoples in Canada.
Acknowledging the particular association that exists between our Catholic Church and the Indian Residential Schools, the Archdiocese will also recognize this day as a statutory holiday. Unlike other holidays, the NDTR is not just a day off from work: instead it is very much a day when we encourage our whole Catholic community to take up the work of prayer and reflection, of learning and listening, of reaching out and reaching forward toward a new relationship of healing and reconciliation with Indigenous peoples of this land.
---
VIDEOS: Healing & Reconciliation Series
The abuse of Indigenous peoples is a dark chapter in the history of Canada and of the Catholic Church. This two-part webinar series is a brief reflection on the history of the residential schools and the Truth and Reconciliation Commission and the long road towards Healing and Reconciliation:
Part 1
Part 2
This educational video series is presented by Edmonton Archbishop Richard Smith, Deacon John Brown, Cardinal Thomas Collins – the Emeritus Archbishop of Toronto – and Neil McCarthy, the director of communications for the Toronto Archdiocese.