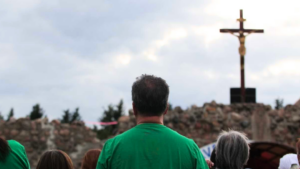 The Catholic Church is the original Christian Church, founded by Jesus Christ, over 2000 years ago.
At the center of our faith is our Lord and Savior, Jesus Christ, who suffered, died and was resurrected to save us from our sins and to give us the gift of eternal life in heaven.
We believe that Jesus is present to us, both physically and spiritually, through the Sacrament of the Eucharist, when consecrated bread and wine become the Body and Blood of Christ during the sacrifice of the Holy Mass.
Whether you are new to the Catholic Church, you are returning to the Church or you are coming here with questions, here is some basic information about what we profess as Catholics.
The core beliefs of the Catholic faith are found in the Nicene Creed. Here is what it says:
I believe in one God, the Father almighty, maker of heaven and earth, of all things visible and invisible.

I believe in one Lord Jesus Christ, the Only Begotten Son of God, born of the Father before all ages. God from God, Light from Light, true God from true God, begotten, not made, consubstantial with the Father; through him all things were made. For us men and for our salvation he came down from heaven, and by the Holy Spirit was incarnate of the Virgin Mary, and became man. For our sake he was crucified under Pontius Pilate, he suffered death and was buried, and rose again on the third day in accordance with the Scriptures. He ascended into heaven and is seated at the right hand of the Father. He will come again in glory to judge the living and the dead and his kingdom will have no end.

I believe in the Holy Spirit, the Lord, the giver of life, who proceeds from the Father and the Son, who with the Father and the Son is adored and glorified who has spoken through the prophets.

I believe in one, holy, catholic and apostolic Church. I confess one Baptism for the forgiveness of sins and I look forward to the resurrection of the dead and the life of the world to come. Amen.
Catholic teaching — the sum of truths revealed by God in Scripture and Tradition — is further detailed in the Catechism of the Catholic Church.
We have seven sacraments, of which the primary one is Eucharist or Holy Communion. As Catholics, we honour the Blessed Virgin Mary as Mother of God thorough devotions, and often seek the intercession of Mary and other saints in prayer. Our faith includes teachings on Divine Mercy, sanctification through faith, and evangelization (sharing the Word of God) as well as Catholic social teaching, especially voluntary support for the suffering and less fortunate through works of mercy.