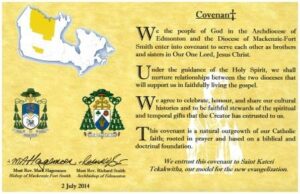 The Diocese of Mackenzie-Fort Smith is one of the world's largest in geographical area, and is home to about 28,000 Catholics — more than half the Northwest Territories population — primarily Dene, Métis, and Inuvialuit peoples.
On July 2, 2014, Archbishop Richard Smith and Bishop Mark Hagemoen signed a covenant to formalize a twinning relationship between our two dioceses, with the goal of sharing our mutual gifts and needs.
In Mackenzie-Fort Smith, distances are great, and resources are few. Our donations to Together We Serve help support positive projects that build the spiritual health of the community, whether it's building or restoring churches, training and supporting pastoral leaders, or helping to fund programs that bring young people, families and communities together.
"We are blessed to be part of the Together We Serve appeal. Your support will help us in the Diocese of Mackenzie-Fort Smith to fund the critical ministries that encourage prayer, service, healing and growth, and engagement of the Church and the community. Your gifts will truly make a difference as we build together in community of hope in Christ's vision for His people."

✠ Most Rev. Mark Hagemoen
Bishop of Mackenzie-Fort Smith
Mackenzie-Fort Smith Videos
We invite you to take a few minutes to learn more about the Diocese of Mackenzie-Fort Smith:
This video was produced in 2016 by Catholic Missions in Canada.
The next video was produced in 2012 for a gala banquet in celebration of our centenary. Funds raised there went toward the building of a new church in Fort Simpson, NWT:
Diocese of Mackenzie/Fort-Smith from Archdiocese of Edmonton on Vimeo.