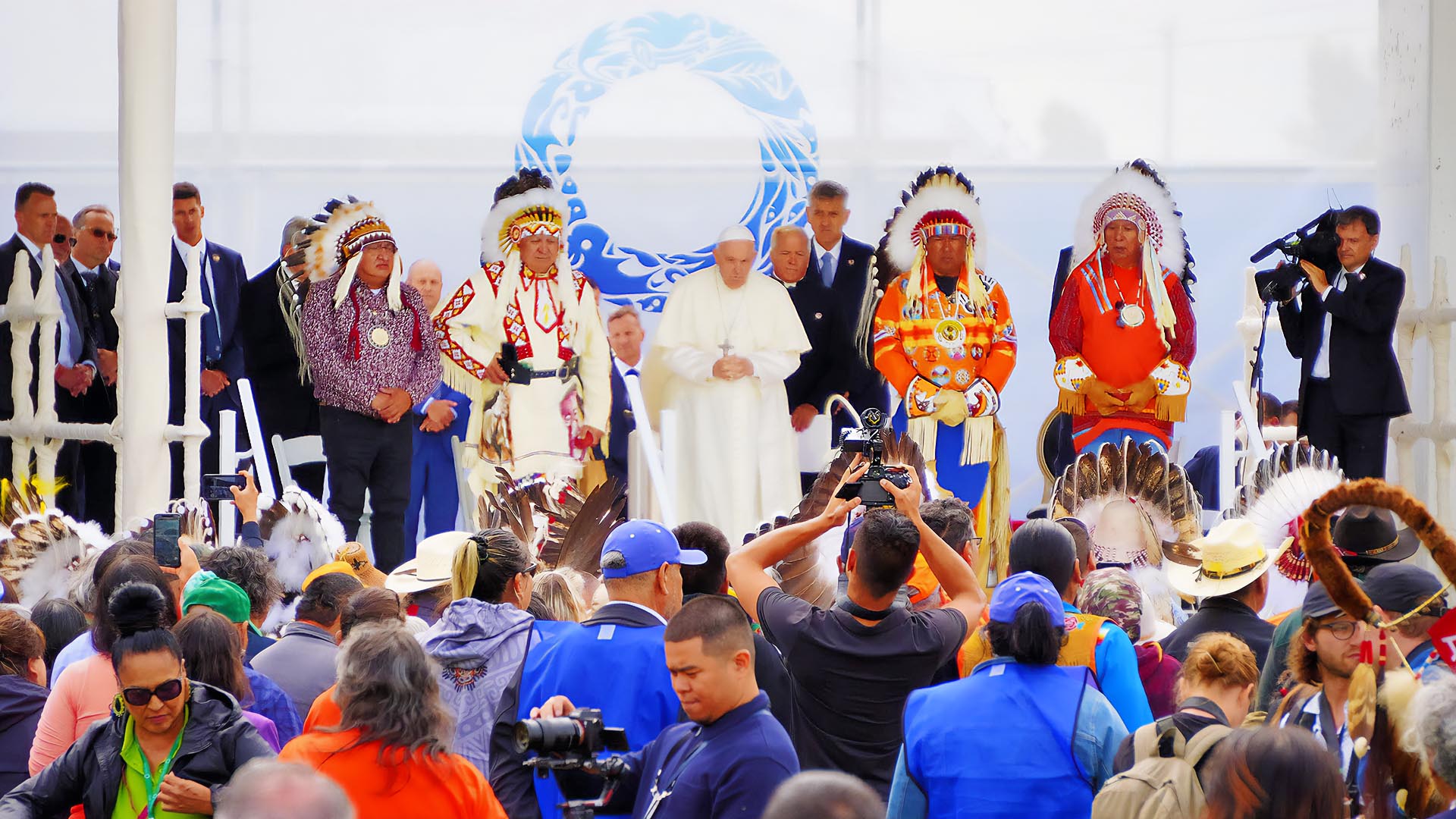 Reconciliation is necessary when something has gone wrong. Canada's Truth and Reconciliation Commission (TRC) told us what went wrong:
"For over a century, the central goals of Canada's Aboriginal policy were to eliminate Aboriginal governments; ignore Aboriginal rights; terminate the Treaties; and, through a process of assimilation, cause Aboriginal peoples to cease to exist as distinct legal, social, cultural, religious, and racial entities in Canada. The establishment and operation of the residential schools were a central element of this policy, which can best be described as "cultural genocide."[1]
On July 25, 2022 Pope Francis apologized at the site of a former residential school (Ermineskin Indian Residential School) in Maskwacis, Alberta for the role of the Catholic Church in the abuse and lack of respect for Indigenous identities, culture and spiritual values in the residential school system.
Praying for forgiveness and God's guidance, Pope Francis said:
"I recall the meetings we had in Rome four months ago. At that time, I was given two pairs of moccasins as a sign of the suffering endured by Indigenous children, particularly those who, unfortunately, never came back from the residential schools. I was asked to return the moccasins when I came to Canada, and I will do so at the end of these few words, in which I would like to reflect on this symbol, which over the past few months has kept alive my sense of sorrow, indignation and shame.

The memory of those children is indeed painful; it urges us to work to ensure that every child is treated with love, honor and respect. At the same time, those moccasins also speak to us of a path to follow, a journey that we desire to make together. We want to walk together, to pray together and to work together, so that the sufferings of the past can lead to a future of justice, healing and reconciliation."

The Holy Father added: "Our own efforts are not enough to achieve healing and reconciliation: we need God's grace. We need the quiet and powerful wisdom of the Spirit, the tender love of the Comforter. May he bring to fulfillment the deepest expectations of our hearts. May he guide our steps and enable us to advance together on our journey."
In establishing the $3.2 million reconciliation fund and convening the Discernment Circle to help frame our efforts, the Archdiocese of Edmonton in partnership with First Nations, Metis and Inuit Peoples from across Treaty Six will support Indigenous-led healing and reconciliation initiatives to guide our next steps, together.
The Indigenous Reconciliation Fund (IRF) is a registered charity established in 2022 that accepts contributions from 73 Catholic entities across Canada, one of which is the Archdiocese of Edmonton. The fund will advance local healing and reconciliation initiatives, fulfilling our commitment of $3.2 million over five years (which is part of the $30 million pledged by Canada's Bishops).
The fund seeks to support projects that are determined locally, in collaboration with First Nations, Métis and Inuit partners. The IRF has established the following criteria for grant applications:
Healing and reconciliation for communities and families;
Culture and language revitalization;
Education and community building;
Dialogues for promoting indigenous spirituality and culture; and
Youth leadership.
The fund has been designed to meet the highest standards of transparency and good governance and is overseen by a Board of Directors made up of Indigenous leaders. The national IRF has raised over $9 million, putting the fund on schedule to exceed its five-year $30 million commitment.
Local Catholic dioceses identify the priority of meaningful reconciliation work as determined by local Indigenous groups and organizations. To that end, local project leads seeking funding would apply directly through the Archdiocese of Edmonton below.
---
Discernment Circle
An Indigenous Reconciliation Discernment Circle will identify projects within the area of the Archdiocese of Edmonton, review and approve applications and ensure transparency and good governance.
"History cannot be erased, but together we can look forward to – and help create – a better future," said Cam Alexis, chair of the Indigenous Reconciliation Discernment Circle and a member of the Alexis Nakota Sioux Nation.
"I think the spirituality and culture is very important because that is part of the Church's reconciliation as well. It is to recognize that as a holistic way of healing. Even the Pope visited us last summer, and all of this is the concept of healing and coming back to the Church as well for prayer."
The Indigenous Reconciliation Discernment Circle in the Archdiocese of Edmonton is Indigenous-led, with representation from First Nations, Metis and Inuit partners. The Circle  is also supported by an Elder, former Samson Cree Nation Chief Victor Buffalo.
---
Grant Guidelines
The Archdiocese of Edmonton welcomes applications for local grants that support the following goals and criteria:
Healing and reconciliation for communities and families;
Culture and language revitalization;
Education and community building;
Dialogues for promoting indigenous spirituality and culture; and
Youth leadership.
Projects should be Indigenous-led and/or be supported by an Indigenous community. Priority should be given to projects which will have or contribute to a lasting impact on reconciliation within communities.
Grant requests may be made for funding up to a  two-year limit, and grants may be renewed within the lifespan of the Fund.
All Fund grant recipients must be registered charities or in partnership with a registered charity as outlined in the Application Form.
IRF grants are not, normally, to be used to cover expenses (i.e. travel, etc.)
Projects receiving grants must be completed by December 31, 2029.
This Indigenous Reconciliation Fund may be stacked with other funding sources. For the purpose of this grant, the grant stack funding level to a recipient can be up to 100 per cent of the costs.
To apply for a grant, please click on the button on the sidebar at right.
---
Contact
If you have any questions, please e-mail Marion.Haggarty-France@caedm.ca
---
Indigenous Reconciliation Fund in the news