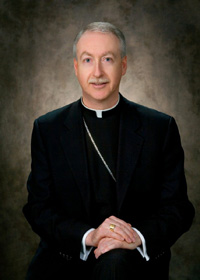 Dear Brothers and Sisters in Christ,
In recent years the Church in Canada and the world has become painfully aware of the scourge of sexual abuse of minors perpetrated by a small number of clergy. We share with our Holy Father Pope Francis the profound sorrow arising from the undeniable fact that some clergy have hurt innocent children, and some Bishops have badly mishandled their responses to these crimes.
We cannot run or hide from these events, and we have no desire to do so. They need to be squarely faced with the Gospel principles of healing, truth, light and repentance.
We want to take this opportunity to assure all staff, clergy and parishioners that the Archdiocese takes any allegations of abuse very seriously:
We are committed to ensuring that any archdiocesan employee, priest or lay volunteer who offends against children or other vulnerable persons is promptly removed from ministry, that any offences are immediately reported to civil authorities, and that victims receive an apology, compassion and assistance in recovering from any harm they have suffered, including compensation where appropriate.
We are also called to take active measures to prevent abuse of any kind in the future. We must ensure to the best of our ability that our parishes and ministries offer a safe environment to all, particularly to children and vulnerable adults such as the sick, elderly or disabled. I am pleased to share with you a number of these measures:
A confidential means of reporting abuse has been set up through a special email account (click the Contact Us button and select Abuse Line), and a toll-free phone number: 877-770-6777.
A comprehensive Policy on Abuse has been developed and posted online for ready access.
We have engaged the services of Praesidium Inc., a firm that specializes in helping churches and other organizations create safe environments. With their assistance we are providing the Called to Protect training program to all our clergy, faculty, parish staff, youth leaders and volunteer. This mandatory program provides our people with tools to identify inappropriate behaviours, methods to report potential abuse, and best practices in ministering safely to the young and vulnerable.
Our screening procedures have been strengthened, both for paid employees and any volunteers who work in ministries serving children or vulnerable persons (Volunteer Management Policy). We are conducting workshops across the Archdiocese to assist parishes in implementing this policy and ensuring that all programs and ministries operate within safe environments.
The mistakes of the past have caused great pain, but they also offer us an opportunity to work for change in exercising our responsibility for the care of children and other vulnerable people. Thank you for taking the time to learn more about this important topic. We pray for the guidance of the Holy Spirit so that we will always be diligent in answering the call to protect.
Sincerely in Christ,
✠ Richard W. Smith
Archbishop of Edmonton
(original published April 2012)
---

At the direction of Archbishop Richard Smith, the Archdiocese has worked since 2010 with Praesidium, an international leader in abuse risk management, to promote safe environments and best practices in abuse prevention at its parishes and institutions.
In March 2017 the Catholic Archdiocese of Edmonton achieved Praesidium Accreditation®, an honour that publicly demonstrates that it has worked to achieve the highest standards in abuse prevention. It is the first Archdiocese in North America to complete this rigorous process.
See the News Release: Archdiocese Honoured for Abuse Prevention Practices.
---


In 2021, Lucy Kaakyo, the Archdiocese's Volunteer Services and Safe Environment Lead, became a Certified Praesidium Guardian.
In her role as Coordinator of the Office of the Lay Apostolate for the Catholic Archdiocese of Edmonton, Lucy developed a plan and informative materials to help further educate all adults from the Archdiocese, regardless of whether they collaborate as a volunteer or employee.
Lucy developed the plan in hopes of educating as many adults as possible who are connected to the Catholic Archdiocese of Edmonton about foundational abuse prevention topics. The Archdiocese will offer bi-annual information sessions that will be open to all parishioners. Lucywill also be establishing relationships with other local organizations (law enforcement, child protective services, courts, etc.) and invite experts in different aspects of abuse prevention and response to speak at the information sessions.
Understanding that the pandemic limits the possibility of gatherings in person, Lucy has also developed written materials that can be shared via newsletters and bulletins. The materials developed by Lucy present important abuse prevention information in a creative and easy to understand manner, to teach all adults connected to the Archdioceses important tools and information that they can use at home or in other organizations in which they serve.
We are proud of Lucy and her efforts to enhance the culture of safety at the Catholic Archdiocese of Edmonton and look forward to her continued contributions as a Certified Praesidium Guardian!