Tour of Italy: September 18-30, 2022
with Rev. Dr. Adaikala Raja John SDB
Departs Edmonton to see:
Venice & Padua (Scrovegni Chapel, Basilica of St Anthony, and St. Mark's square and Cathedral),
Milan (Basilica of St. Ambrogio and Church of Santa Maria delle Grazie, Leonardo Da Vinci's fresco of 'The Last Supper" which is preserved inside.),
Torino (San Lorenzo Church as well as the former house of St. Don Bosco)
Pisa and Florence (cradle of the Renaissance)
Florence and Assisi (David by Michelangelo, Piazza Della Signoria, Baptistery and the Duomo)
Rome (tomb of St. Francis and frescoes by Giotto in the great basilica, Sistine Chapel. Later visit St. Peter's Basilica, Michelangelo's Pietà, Roman Forum and the Colosseum)
Vatican (Papal Audience [subject to availability], the Basilica di Santa Maria Maggiore and Basilica di St Clemete)
Download details: SEPT 2022 TOUR OF ITALY
---
Holy Land: Israel & Palestine: November 15-24, 2022
with Fr. Les Kwiatkowski, OMI
Dear Friends,
On November 15 – 24, 2022, I am leading a group on a 10 day trip to the Holy Land: Israel & Palestine, the lands of the Bible, and the land where Jesus Himself walked, transforming hearts and lives.
I hope that you will join me on this trip of a lifetime as we walk where Jesus walked and visit the places where He healed the sick, taught the multitudes, died on the Cross – and rose from the dead 2,000 years ago. We will also trace the sites where some of the Prophets of the Old Testament walked… This trip is much more than simply a vacation. I believe we truly will never be the same upon our return.
We will invoke the Holy Family to be with us on this trip. This is an opportunity to see the people, places, and events of the Bible come alive before our very eyes! Imagine the feeling we will have as we stand together and look out over the Sea of Galilee where our Lord stilled the waters! I am eager to visit the Garden of Gethsemane and the Upper Room, and I look forward to praying with you in the Church of the Holy Sepulchre, the site where Jesus was laid and resurrected.
So please check your calendar…and then make your plans to join us! Space is limited so I encourage you to not delay!
Let's worship, do fellowship and rejoice together in the Holy Land … you'll never be the same!
Yours in Christ,
Father Les Kwiatkowski, OMI
Pastor: Lac Ste Anne Parish, Alexis Nakota Sioux Nation, Our Lady of Mercy Parish, Enoch First Nation, Paul First Nation and Alexander First Nation
See the complete brochure: HOLY LAND pilgrimage with Father Les: Nov. 15-24, 2022
---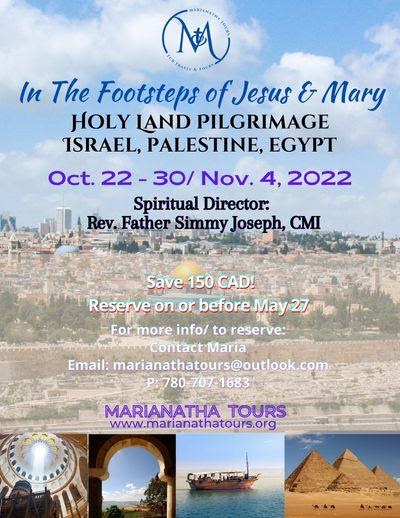 ---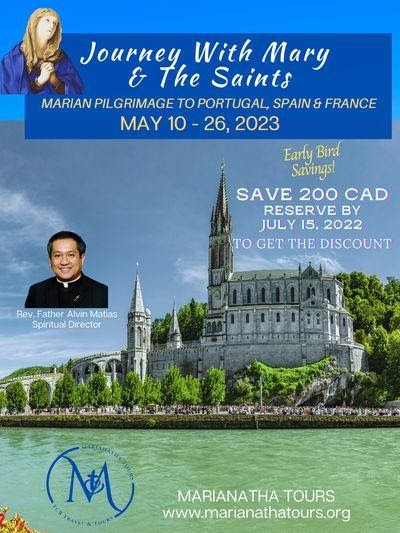 ---
To reserve space/ for more information, contact Maria Drueco (Group Travel Consultant)
Email: marianathatours@outlook.com / Phone/ Text: 780-707-1683
Lyle Thorne (Group Coordinator) at 780-915-6091, or MARIANATHA TOURS: www.marianathatours.org