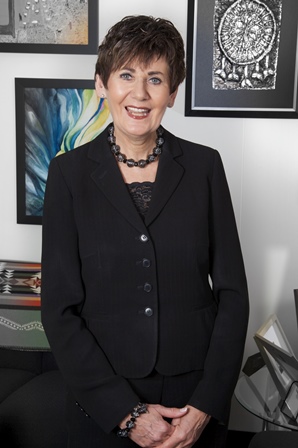 Joan Carr, who served with distinction as superintendent of Edmonton Catholic Schools for 14 years, died on Sunday, February 9.
Archbishop Richard Smith, who knew Carr well for her work with the school division and many other Catholic causes, said she will be missed by many colleagues and friends.
"We offer our sincere condolences to Kevin and the Carr family," the Archbishop said. "Our Catholic community across Edmonton is also mourning the loss of Joan. She was a true gift to her family and community, an inspiration to her ECS colleagues, and a generous friend. We are grateful to God for her presence among us and will miss her dearly. May she find eternal rest and peace in the embrace of the Saviour she loved."
Her funeral is scheduled for 10:30 a.m. on Saturday, February 15, at St. Joseph's Basilica.
The school division announced that she passed following a courageous struggle with cancer.
"Joan will always be known and loved as an individual with a passion for Catholic education and bringing students, staff, and families into a closer relationship with Jesus," ECS said in a prepared statement.
"Her legacy is part of the fabric of Edmonton Catholic Schools. Joan was passionate about providing students with a broad spectrum of faith-based programming to choose from in order to reach their fullest potential. This has established the character of our jurisdiction as one which provides for personalized programming to engage student gifts, talents, and passions through high quality Catholic educational experiences. Most of all Joan loved helping our students to walk with Jesus."
"Joan put students at the centre of every decision we made," said Laura Thibert, Chair of the ECS Board of Trustees. "The Board is heartbroken to lose her, as she was not only an amazing leader but dedicated her life to Catholic education and touched the hearts of everyone she knew. Her legacy will live on forever."
Joan Carr served the division for 45 years, as a teacher, administrator and finally as superintendent since 2006. In 2016, she was recognized by the Canadian Association of School System Administrators as Canadian Superintendent of the Year. At the time, she spoke about her love for the work and a deep faith that inspired her daily.
"I see hope in everything, and I really believe that we are here to do God's work; we are here to do God's will," said in an interview with the Western Catholic Reporter. "I feel that I've been called to this life of service, and I can never rest until I feel that I'm doing the absolute best that I can do."
In respect for Joan Carr, flags at all ECS sites will be lowered to half-staff until sunset on the day of her funeral.