With great joy and gratitude, we are pleased to advise that a date has been set for the ordinations of Deacon JD Carmichael and Deacon Curtis Berube to the priesthood for the Archdiocese of Edmonton. Archbishop Smith will preside at the Mass of Ordination at 7 p.m. on Monday, June 29, at St Joseph's Basilica.
PLEASE NOTE that because of COVID restrictions, the celebration will be open only to their immediate family members.
However, we plan to livestream the Mass so that you can participate online. Details on the livestream will be shared closer to the date.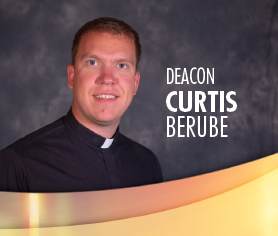 Deacon Curtis, 27, grew up in a large family on an acreage just outside of Sherwood Park, where he was home-schooled from Grades 1 to 12.
As a young altar server, he saw the priests as positive role models, and they often encouraged him to consider a future in ministry.
As a teenager he started working with his dad in carpentry and initially thought that would be his career path. But after attending World Youth Day in Spain, he rediscovered his passion for the faith and his interest in the priesthood.
He entered St. Joseph Seminary in 2012. Deacon Curtis served his internship at St. Anthony Parish in Lloydminster.
Deacon JD, 34, was born in Fort St. John, B.C., and grew up in  Rocky Mountain House and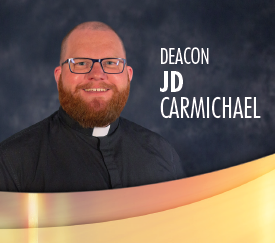 Sherwood Park.
With a lifelong passion for hunting and fishing, his initial plan was to become a wildlife biologist. He earned a degree in at the University of Alberta and landed a high-paying job in his field, but Carmichael longed for something more meaningful.
As he took his doubts to prayer, the answer came in the call to priesthood, and JD entered the seminary in 2014.
Deacon JD served his internship at St. Anthony and St Agnes parishes in Edmonton.
Please keep both of these faithful men in your prayers!
WATCH THE MASS OF ORDINATION: