B.C. Catholic
With files from the Archdiocese of Edmonton
Pope Francis has named the Archdiocese of Vancouver's Vicar General, Father Gary Franken, as the new Bishop of Saint Paul, Alta.
Father Franken will take over from Bishop Paul Terrio, who retires at the age of 79, four years after reaching the mandatory retirement age of 75.  Bishop Terrio will serve as apostolic administrator for the diocese until Bishop-Elect Franken's installation on Dec. 12.
Read Archbishop Smith's statement
Read announcement from the Diocese of St. Paul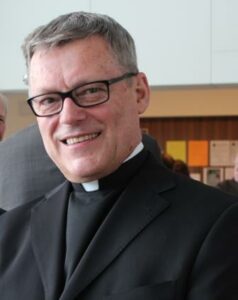 The Diocese of Saint Paul has 38 priests (diocesan and religious), 12 permanent deacons, 38 parishes and missions, and  a Catholic population of 107,278.
Vancouver Archbishop J. Michael Miller, CSB, said Pope Francis "has chosen well a worthy successor" to Bishop Terrio.
"Like his brother priests, I will miss Father Gary as vicar general and his tireless ministry in our local Church. We all know just how much the Diocese of Saint Paul will be blessed to have him as their new chief shepherd."
Father Franken has been vicar general since 2016. Father Franken is also vicar of priestly life, moderator of the curia, pastor of St. Anthony's Parish in West Vancouver, and sits on numerous councils and committees of the Archdiocese of Vancouver including the Presbyteral Council  and the Finance Council.
He has served on a large number of boards and commissions including the Archdiocesan Stewardship Commission, the Stewardship Advisory Board, and the Communications Advisory Board. He is a member of the Archbishop's Council, the Archdiocesan Pastoral Council, and the College of Consultors.
He was Vocations Director for the Archdiocese of Vancouver from 1997 to 1999.
He was named Vicar for Priestly Life in 2011, becoming responsible for ongoing formation programs (retreats and study days) and the Archbishop's liaison with retired priests.
He has also lectured on spirituality at St. Mark's College.
Father Franken was ordained to the priesthood in 1989 by Archbishop James Carney after receiving his Master of Divinity from St. Peter's Seminary in London, Ont. Later he received his Licentiate of Sacred Theology (STL) in Dogma and a diploma in Spirituality from the Pontifical University of Saint Thomas Aquinas (the Angelicum) in Rome.
Father Franken grew up in St. Mary's Parish in Vancouver and graduated from St. Thomas More Secondary in Burnaby in 1980. He went to St. Peter's Seminary in London, Ont., after first hearing the call to the priesthood at the age of 11.
As a young man and motorcycle enthusiast, he took a two-year break in the middle of his undergraduate studies, during which he lived in a L'Arche community and worked with people with intellectual disabilities.