His Grace Bishop Ilarion Rudnyk (Ukrainian Orthodox) and His Excellency Bishop David Motiuk (Ukrainian Catholic) invite the clergy, religious, monastics and laity to join us in prayer for the innocent victims of war in Ukraine through the offering of a Panachyda (Ukrainian sung memorial prayer) on Saturday, March 26, at 5 pm at Saint Basil Parish, 7007 – 109 Street, Edmonton.
Special Guest and Speaker: Oleksandr Danyleiko, Consul General of Ukraine.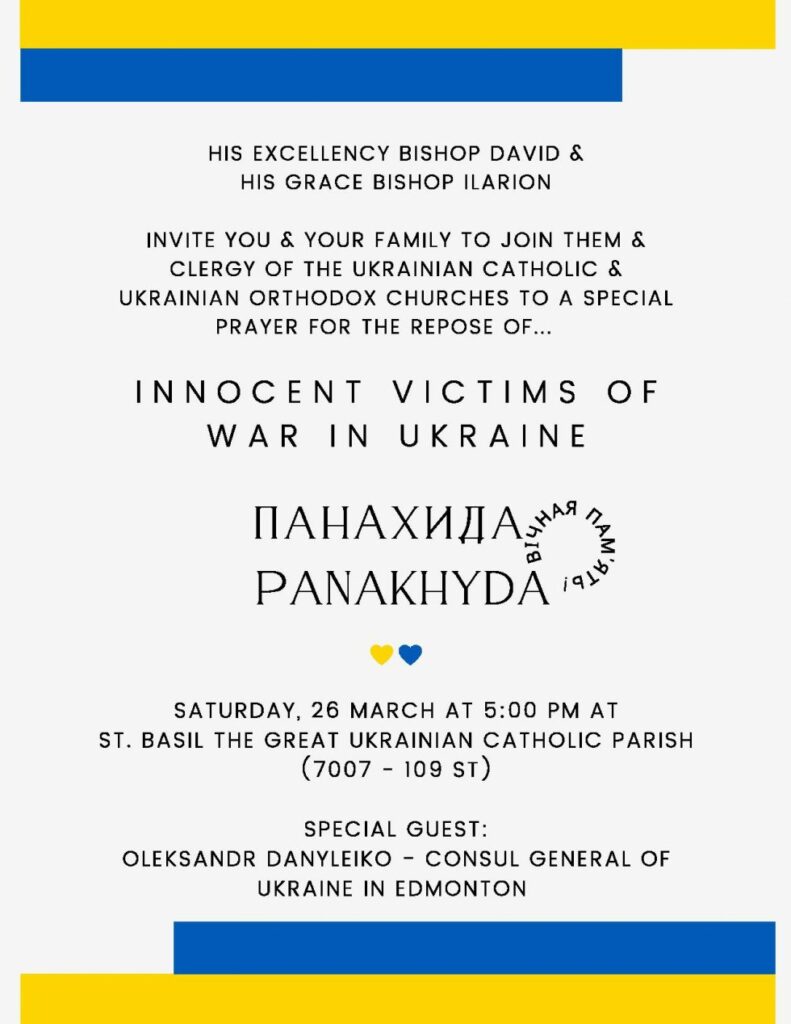 ---
Background: The Ukrainian Catholic (UCC) and Ukrainian Orthodox (UOCC) Bishops of Canada met by zoom conferencing on Thursday, 10 March 2022, to discuss the ongoing tragedy of the War in Ukraine.
Initiating and ending their meeting with prayer, the Bishops discussed their insights on the war situation in Ukraine, the plight of those fleeing the war in various countries, and how the faithful in Canada are responding to this human and political tragedy.
The Ukrainian Bishops of Canada expressed gratitude to the various agencies that are assisting in providing humanitarian aid to Ukraine, and thank their faithful for their willingness to help in whatever way they can. The Bishops concluded by considering plans to unite the faithful of both Orthodox and Catholic Churches in prayer and action for Ukraine.
✠ Lawrence (Huculak), Ukrainian Catholic Archeparch of Winnipeg, Metropolitan, UCC
✠ Ilarion (Rudnyk), Bishop of Edmonton and the Western Eparchy, Locum Tenens of the Metropolitan Cathedral of the UOCC
✠ David (Motiuk), Ukrainian Catholic Eparch of Edmonton, Administrator of the New Westminster Eparchy, UCC
✠ Andriy (Peshko), Bishop of Toronto and the Eastern Eparchy of the UOCC
✠ Bryan (Bayda), Ukrainian Catholic Eparch of Saskatoon, Administrator of Toronto and Eastern Canada, UCC
10 March 2022