Father Susai Jesu asks us to join in prayer for greater understanding and reconciliation flowing out of dialogue, listening from the heart, understanding, forgiveness and justice.
Father Susai gave the Invocation, and the Prayer for Aboriginal Peoples at the 25th Edmonton Prayer Breakfast on April 19. This non-political event brings together churches, ministries and individuals to show support for the city's mayor and civic leaders.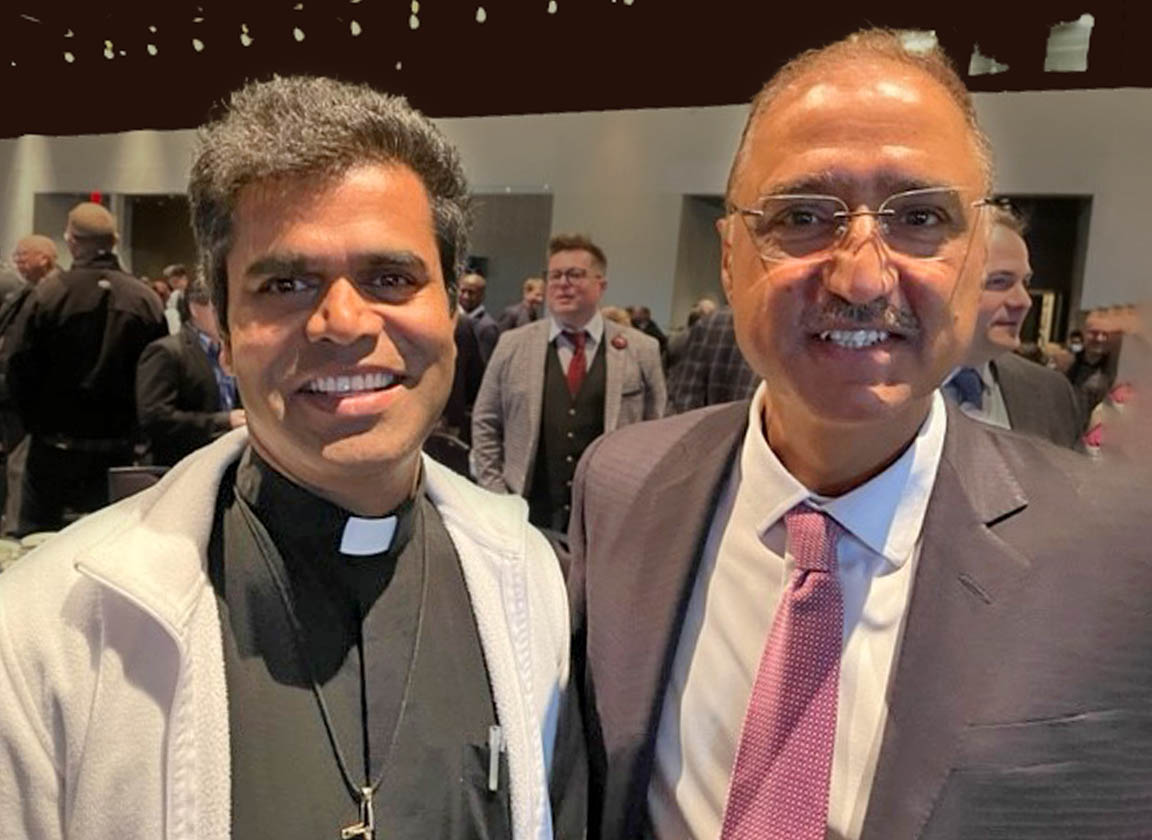 Father Susai is the pastor of Sacred Heart Church of the First Peoples – Edmonton's First Nations, Metis and Inuit parish. The following is Father Susai's prayer in Cree and English:
Ayamihatan means Let us pray:
Ki-Nanaskumitinan Ni-Manitom anoch Kaki-sikak ka-miyiyak e-pe-mamawiniyak Ota ta-ayamihistamawiyak.
Ni-Manitom pe-wichiyinan, kanawapaminan mina sawiyiminan Kakiyow ota ka-yayak.
God our Father and Great Spirit, we thank you for this beautiful day. We thank you for gathering us this morning to celebrate, to meet, to enrich and to share in fellowship with one another. For this we thank you, we praise you and we worship you.
With humility, we your children acknowledge our relationship with all of creation. Give us the honesty to recognize that the earth provides us with life sustaining breath, nourishment and healing. Give us the strength to proclaim by our words and actions that the earth is a blessing for all peoples of all time. May we avoid the sins of exploitive personal power and profit. May we seek the righteous way of love, service, and healing in all things.
Heavenly Father, fill our day with gratitude so that we may see all challenges as opportunities for our growth. Give us the humility to accept the things we have no control over, courage to change the things that need changing and wisdom to know the difference.  Keep us uplifted so we may offer words of encouragement to those who need them. Keep our hearts good, kind and strong, and our thoughts positive.
In a spirit of support and collaboration we pray for our mayor and council and all support staff. Grant them the wisdom and courage, in their deliberations, to effectively deal with the many social and economic challenges of concern to our multicultural society.
We pray for all our brothers and sisters, for each and every family member that they may find peace, hope, love and happiness in their homes.
Creator and loving God, as we walk our journey on this earth, we pray that your Son Jesus, the Word made Flesh, Risen Lord and Saviour – be among us to open our hearts to all our brothers and sisters gathered here, to grow in the wisdom, honesty, courage and respectfulness shown in the Sacred Teachings.
May you bless our efforts to walk together, Indigenous and non-Indigenous, in new ways towards greater understanding and reconciliation flowing out of dialogue, listening from the heart, understanding, forgiveness and justice. Help us live in right relationship and harmony with all of humanity. May we pass on to future generations this earth and all your gifts as you have provided them to us.
This we ask through Jesus Christ, your Son, who lives and reigns with you and the Holy Spirit, God forever and ever.
Amen