"The Lenten journey of penance and the journey of the Synod alike have as their goal a transfiguration, both personal and ecclesial. A transformation that, in both cases, has its model in the Transfiguration of Jesus and is achieved by the grace of his paschal mystery. So that this transfiguration may become a reality in us this year, I would like to propose two "paths" to follow in order to ascend the mountain together with Jesus and, with him, to attain the goal."
Read Pope Francis' Lenten message
Lent is a time to prepare for Easter
We get ready through prayer, fasting and almsgiving (or giving to charity)
Giving to the Together We Serve appeal is one way to live the Word of God, as we are invited to do by Archbishop Smith. We invite your family to journey through Lent using the family Lenten activities and crafts below, and to learn more about this special season and think about the people we help through Together We Serve
Here's a selection of activities you and your family can enjoy doing together:
Reading the Bible as a family
Lent should be a time for developing good spiritual habits as well. Reading the Bible as a family takes a little planning, but it is well worth the effort, because it helps our children (and us!) develop a familiarity with Scripture and come to a deeper understanding of Lent. Here are a few tips to make it easier.
1. Choose the Right Bible
The New Revised Standard Version (NRSV) of the Bible is approved and recommended by the Canadian Bishops, and uses the same words we hear during the readings at Mass.
Another good choice is The Catholic Faith & Family Bible, a translation written specifically for families. It includes helpful tips for parents on sharing Scripture with children, and many suggestions to help families apply Scripture to daily living.
2. Draw out the Themes
After a reading from Scripture, discuss it briefly so that your children can understand that the story isn't just a historical one, but a spiritual one as well.
3. Make Time for Questions and Answers
Ask your children a few questions about the details of the readings. Make this quizzing fun, and they will be eager to try to answer your questions. That means that they will remember the readings long after Lent has ended. And make sure to ask them if they have any questions for you, too.
For more tips, visit http://catholicism.about.com/od/thecatholicfamily/tp/Read_Lent.htm.
---
Lenten Prayer Jar
Prayer jar intention ideas
Pray for a family member in need
Pray for those who are sick
Pray for those who are alone
Pray for a sibling or cousin
Pray for someone who you think needs help
Pray for those who have no one to pray for them
Prayer: Jesus, let me be more like you today in my thoughts, actions and words.
Prayer: God, make me someone who works for peace
Prayer: Jesus, you tell me to love you and others. Help me to do both well today
Prayer: Jesus, help me to be more compassionate and see others through Your eyes today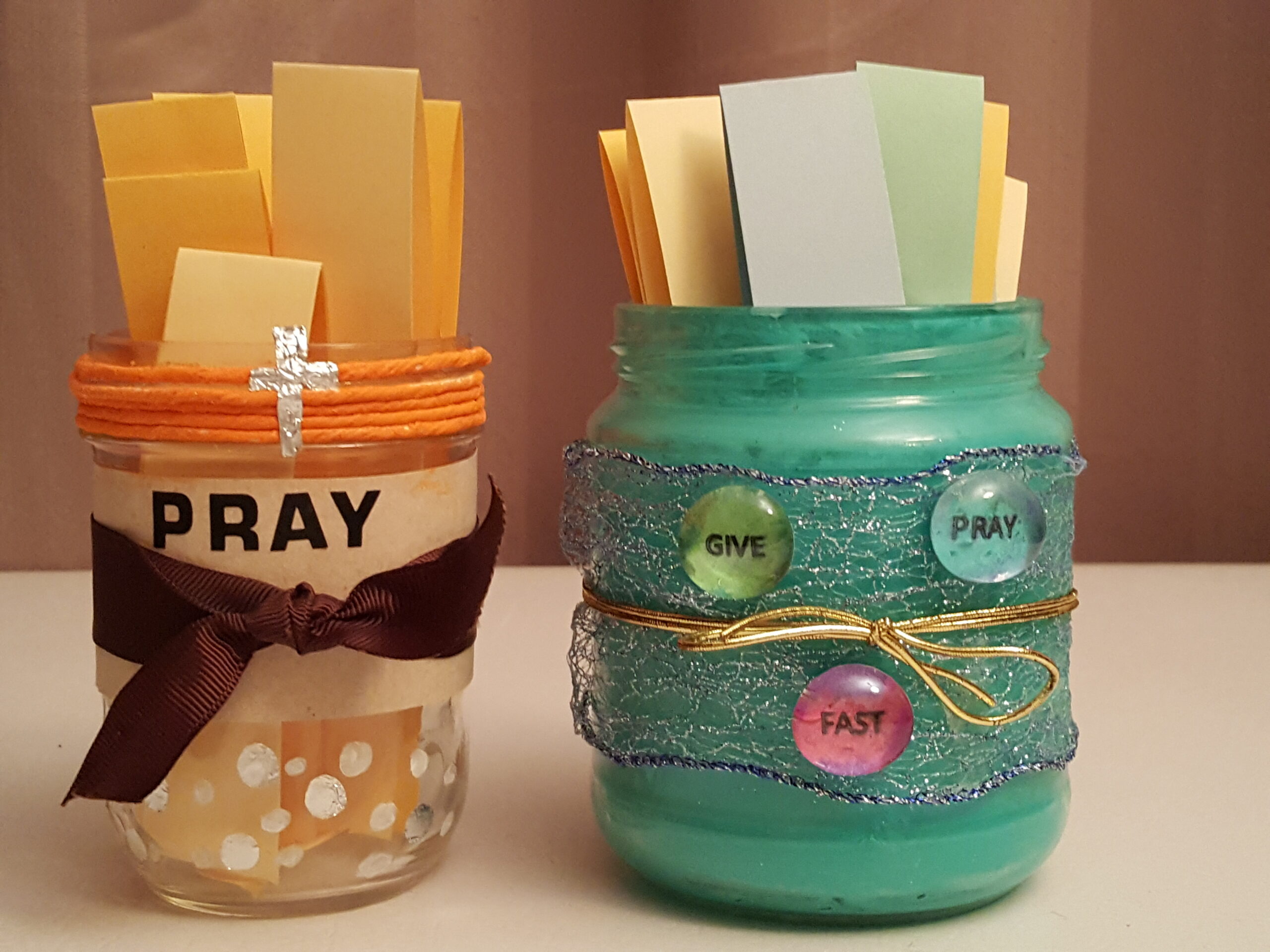 How to make a prayer jar
To help direct your thoughts and prayers this Lent, create a prayer jar.
First, you will need a clean, empty jar – preferably one with a wide mouth. Have an adult help you remove the label from the jar. Mason jars work well and don't have labels.
Once you have your clean jar, the fun begins. You can decorate your jar using paper, paint, ribbon, yarn, string or any fabric scraps you have on hand.
Depending on how you choose to decorate your jar, you may need glue & scissors. You may even want to use some acrylic paint to paint the glass before you start or to add your embellishments.
Once you have finished decorating your jar you will need to fill it with prayers! You can print this page and cut out the intentions, or simply write your own various intentions on strips of paper, fold the strips and place them in the jar. On the days indicated on your Lenten prayer calendar, draw one strip of paper out and say the prayer that you have chosen.
This activity helps with prayer, reflecting and understanding the blessings that God has given us.
---
Make a Mosaic Cross
Mosaic Cross
Cut out a basic cross shape from white paper or construction paper for a background.
Then, cut smaller pieces from colored paper and apply them to the cross background to create an overall mosaic effect.
---
Grace at Mealtimes
Before the meal, begin with a brief excerpt from Scripture; for example Luke 6:36. Then:
Leader: "Lord, Jesus we thank you for your Word. You call us to be merciful as our Heavenly Father is merciful" (cf. Luke 6:36).
All: "Help us, Jesus, to share your love and mercy with those in need."
Together: "Bless us, O Lord, and these Thy gifts, which we are about to receive from Thy bounty through Christ our Lord. Amen"
After the meal:
Together: "We give you thanks, Almighty God, for all your gifts, who live and reign now and forever. Amen"
---
Pray for Vocations; Meet a Seminarian
Prayer for Vocations
God, thank you for loving me.
In Baptism you called me by name to live as your child.
Help all your people to know their call in life.
For your greater glory, raise up generous leaders
to serve as priests, deacons, sisters, and brothers.
Amen.
---
What does a Chaplain do?
Newman Theological Colleges helps prepare people to become prison chaplains.
Watch this video to see what a chaplain does.
Prison Chaplain – Together We Serve from Archdiocese of Edmonton on Vimeo.
---
Make an Embossed Cross
Tin Foil Embossed Cross
Start by cutting a cross shape out of a foam sheet (like the foam trays that baked goods are packaged on from the grocery store.)
Wrap the cross in tin foil, keeping the foil flat and smooth on the front. You can choose to have the shiny side showing or the 'flat' side showing. You can secure the tin foil on the back of your cross using small pieces of tape.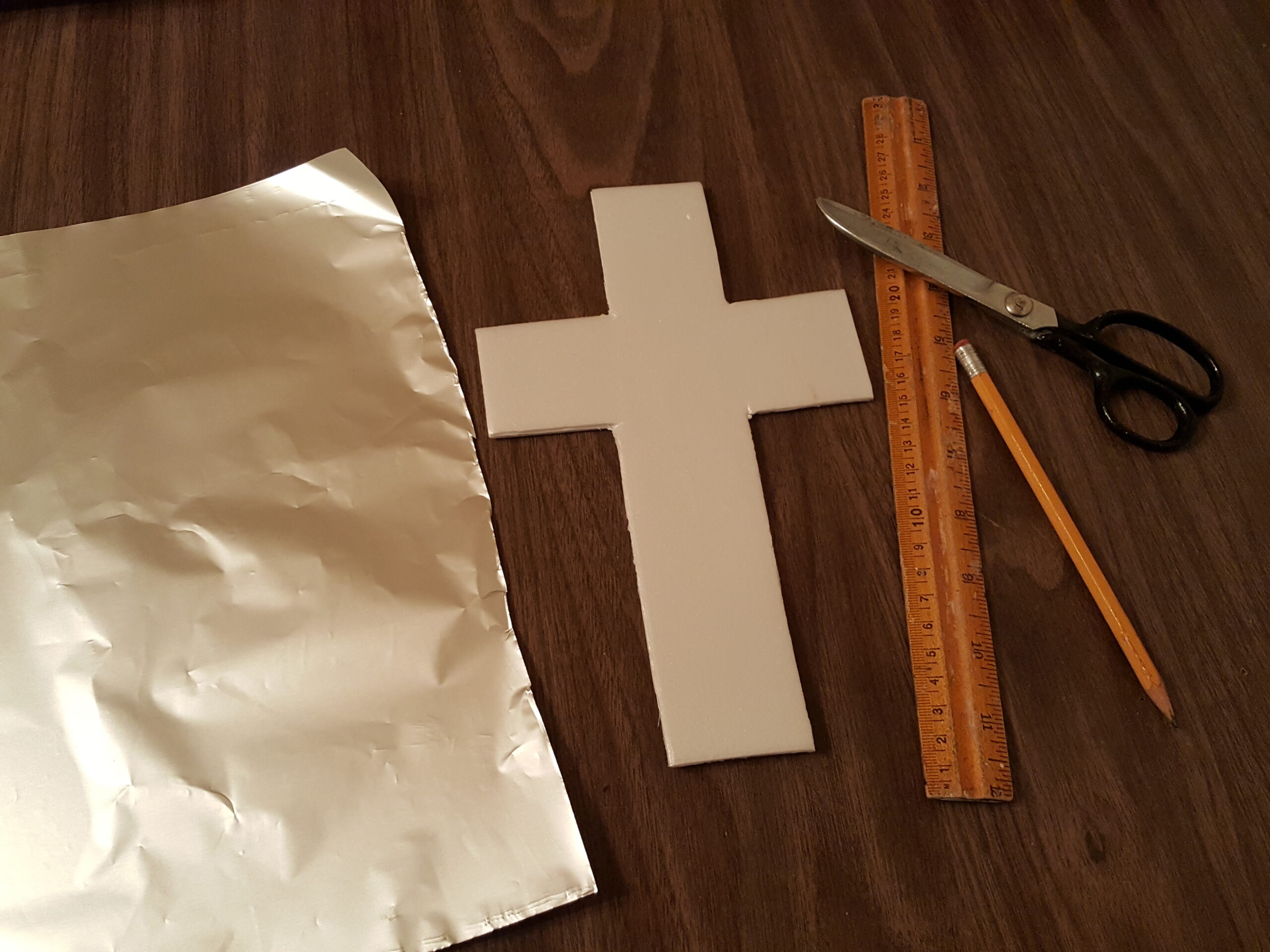 Now you are ready to draw. You can use a pencil or pen to draw a design, pressing hard enough to emboss the design into the cross, but light enough to not tear the tin foil. You can also embellish your cross with gems, cutouts, etc. Use your imagination!
Materials:
Foam tray
Ruler for measuring (or print the cross pattern and trace the pattern onto the foam)
Pen/pencil/embossing tool
Scissors
Piece of tin foil
Tape
---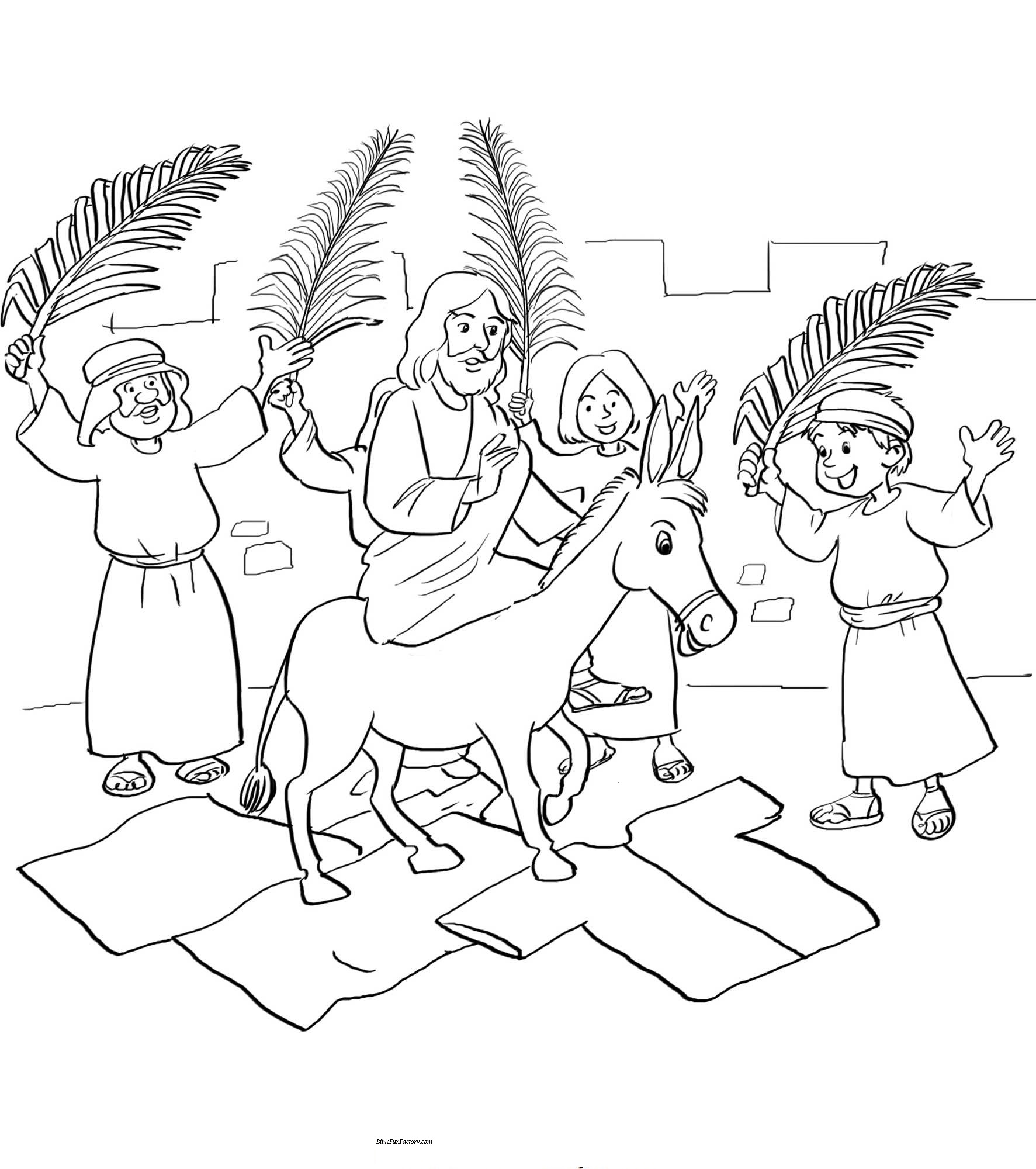 A Palm to Colour
On Palm Sunday we remember that people laid palm branches before Jesus and welcomed Him into Jerusalem.
Click here to download a palm to print and colour.
---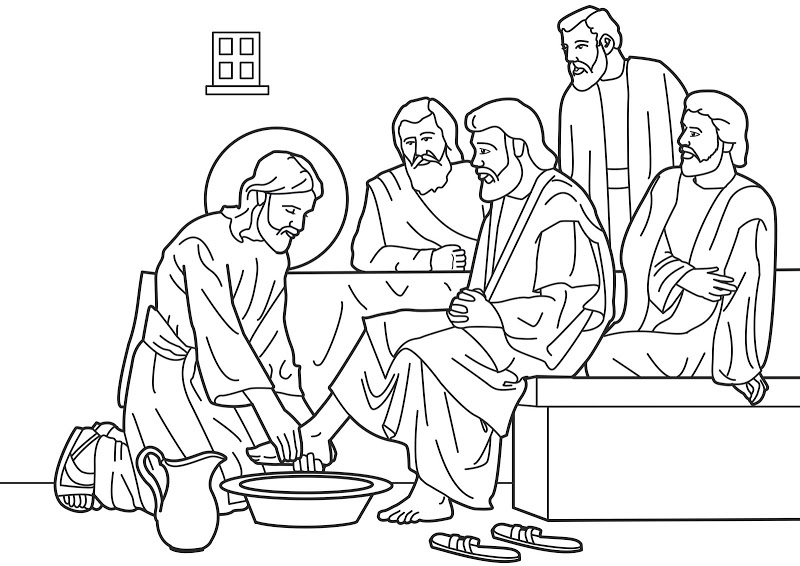 Holy Thursday Colouring Page
On Holy Thursday we remember that Jesus washed the feet of his disciples. This reminds us to help other people.
Click here to download a picture to print and colour.
---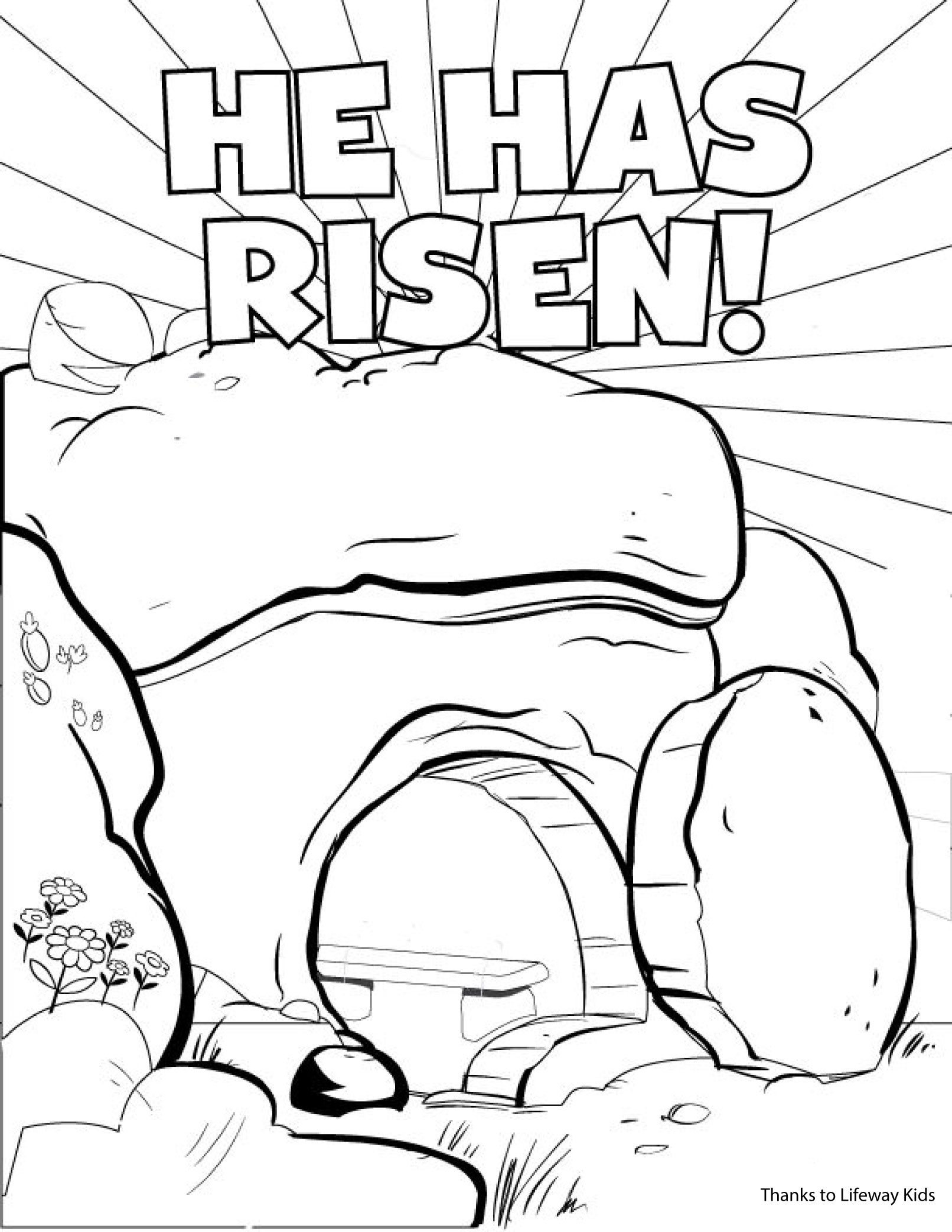 Easter Sunday
'He Has Risen' Colouring Page
Remember to thank Jesus for dying on the cross so that we might live forever.