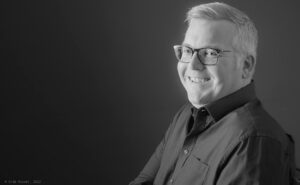 Sacred music and sacred art have been a rich part of the Catholic Church's continuing legacy. The director of music at St. Joseph's Basilica – Roderick Bryce – is participating in that legacy with his dedication to creating beautiful sacred music.
The Basilica's professional eight-piece vocal ensemble, the Schola Cantorum (Latin for "Song School"), is releasing a second album of sacred music on November 15 .
Entitled Into Light, the Schola's new album of choral music is for the season of Advent, a companion to the choir's 2020 debut album Alpha & Omega: Sounds of Christmas at St Joseph's Basilica.
Into Light was recorded last June at Newman Theological College. The album is a mix of the old and new, representative of the repertoire for which the Basilica's Schola is famous. The track list of Into Light finds contemporary choral music by the world's best living composers (e.g. Sir James MacMillan's "O Radiant Dawn") sitting happily alongside Gregorian chant and Renaissance polyphony (motets by William Byrd and Thomas Tallis).
"The album [was] conceived as an ideal antidote to the seasonal hustle and hysteria that builds in our lives at this time of year," Bryce said, "and allows the listener an hour of beautiful contemplative music to help them ponder the real need for the quiet expectation of Advent and preparation of Our Lord's arrival at Christmas."
Into Light is not only a beautiful auditory experience; it also bears an album cover of intentionally created artwork.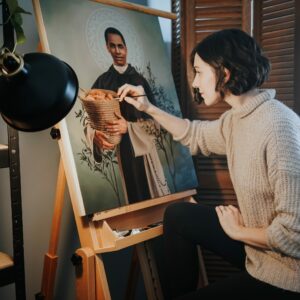 Bryce collaborated with Saskatchewan local Catholic artist Tianna Williams to produce artwork for the album that Bryce says "perfectly captures the quiet intensity and heavenly serenity of the music."
Williams is a full-time artist – both digital and paint – who is dedicated to creating sacred art for the Church and for the glory of God. Williams shared that the creative process is "participating in God's own creative nature."
For Williams, the creation of art such as the album cover for Into Light "means allowing the Holy Spirit to inspire and shape every piece, so that I paint not only for my own enjoyment but so that God can speak his beauty into the world in a new way."
Williams shared that the process of creating the album cover for Into Light was somewhat unconventional. "My brother had recently introduced me to an AI (Artificial Intelligence) software that generates images from different prompts, and I was curious to see what it would produce using the keywords 'into light', 'Advent', 'cinematic lighting', etc. It gave me bizarrely beautiful images of candles and glowing pathways and sparkling lights. I ended up modifying one of those pictures for the CD cover."
The experience of designing the album cover, also lead to the inspiration of William's latest painted portrait of Our Lady, a portrait which shares the title Into Light, after the album which originally inspired its genesis.
Both the Schola Cantorum's new music and Williams' visual art speak to why art – both visual and musical – is such an important element of the Church. Bryce shared that sacred music, such as is found on Into Light, "helps to sacramentalize the song of heaven. . . by using the sacred texts and elevating them in an authentic way, it can bring the sound of heaven into the present."
To purchase a hardcopy or download of Into Light to be the soundtrack for your Advent season, go to basilicastore.ca. To view Tianna's online art store, go to sacredartbytianna.com.