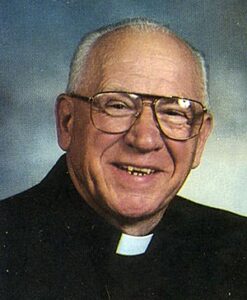 Rev. Teofil (Ted) Wesolowski – who served throughout the Archdiocese of Edmonton, including as chaplain of the Carmelite Monastery in Devon – has died. He was 96.
Father Wesolowski died around 9 a.m. Feb. 6 at the Youville Home in St. Albert.
He was born in Laczyn, Poland, on May 1, 1924, and he was ordained a priest in Rome, Italy, on July 13, 1958.
A small private funeral will be held at the Carmelite monastery, with Archbishop Smith as celebrant.
Let us pray for the repose of his soul, and let us pray for his family.
Read Archbishop Smith's Homily for Rev. Teofil (Ted) Wesolowski