Pope St. John Paul II wrote that "Science can purify religion from error and superstition; religion can purify science from idolatry and false absolutes. Each can draw the other into a wider world, a world in which both can flourish."
The belief in this symbiotic relationship between Catholicism and science is at the heart of The Society of Catholic Scientists, which is hosting the first-ever Gold Mass in the Edmonton Archdiocese. The Gold Mass will be celebrated by Archbishop Richard Smith at 5:30 pm on Nov. 15 in the St. Joseph's College chapel. All are welcome and a reception will follow.
The tradition of the Gold Mass is intended to honour and intercede for the scientific community and to celebrate the fellowship of Catholic scientists who believe in the kinship of faith and reason.
In anticipation of the Gold Mass, we spoke with physicist and University of Alberta professor Dr. Frank Marsiglio, a member of the local chapter of the Society of Catholic Scientists.
.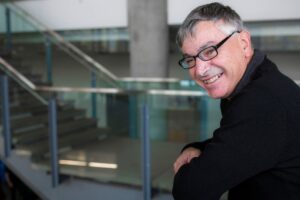 What is one way that your Catholic faith has changed your approach as a scientist, and more specifically your work in physics?
In many ways, but since you ask for one way, I will focus on my approach to problem-solving. Especially very early on, one can easily become discouraged with solving a problem, because maybe there is no solution, or the solution is a mess, or something like that. This would bother me even in high school, but I quickly learned that this didn't happen with high school problems, especially if the answers were at the back of the book.
So it is with research problems, and when I get stuck and discouraged with a particular problem because it seems too difficult or messy, I get encouragement and even inspiration from the knowledge that God knows the answer, and so there is an answer, like at the back of the book, and I just have to uncover it. 
Why did you join the Edmonton chapter of the Society of Catholic Scientists and how has it supported you as a scientist and Catholic?
I joined out of a desire to allow younger people (i.e. students) to see that established scientists can practice a faith and still be rational-based human beings. Especially at a university (ironically!) students can sometimes get the opposite impression — that a scientist can't possibly have a faith — that the two are incompatible.
I am hoping that our chapter can be a place where students can discuss issues of science and our faith, and realize that this is one of our goals as scholars — to understand why we are here (on earth) and what is expected of us in our lives. 
You realize that students and young people are not the only ones susceptible to discouragement with some of prevalent views of science and faith, and so it has been encouraging for me to be a part of this chapter.
Why is the Gold Mass important to the Catholic scientific community in Edmonton?
Our first Gold Mass provides an opportunity for our chapter to get together and celebrate our Catholicism. This is especially important in light of the pandemic in the past few years, as we have not had a chance to reach out to the broader Catholic community in Edmonton.
We hope to use this opportunity to spread the word about our Edmonton chapter of the Society of Catholic Scientists, especially to students at this and neighboring universities and colleges. And in some cases, we will be meeting one another in person for the first time!
.
.
The Society of Catholic Scientists shares that "(The Gold Mass) follows in the tradition of special Masses for members of particular professions. The oldest, the Red Mass for lawyers and lawmakers, was introduced in the 13th century. The first White Mass for health care professionals and the Blue Mass for law enforcement personnel were begun in the 1930s."
The first Gold Mass was celebrated in Boston at MIT in November 2016.
Gold Masses are usually Votive Masses (a Mass said for a special intention) in honour of St. Albert the Great (patron saint of natural science) and use the readings and propers for his feast day (November 15).
The "Gold" Mass  was selected because gold is the colour of the hoods worn by individuals graduating with a PhD in science and it is the colour associated with St. Albert the Great.
Individuals interested in joining the Edmonton Chapter of the Society of Catholic Scientists can contact Dr. Reinhard Vehring at: vehring@ualberta.ca, or Dr. Frank Marsiglio at: fm3@ualberta.ca.
Jenny Connelly – Archdiocese of Edmonton