The Ukrainian community in Edmonton is raising its voice in solidarity with its war-torn homeland.
St. Joseph's College and the Ukrainian Catholic Eparchy of Edmonton hosted a Vigil For Ukraine on March 1, a day of solidarity to mark the one-year anniversary of the Russian invasion of Ukraine, to commemorate the heroism of Ukrainians and to pray for peace. 
Academics and priests explained the heritage, history and heroism of Ukraine and her people. Refugees shared harrowing stories of fleeing their homeland. A stark visual memorial showed dozens of young adults killed in the war. And the event ended with a candlelight vigil of prayer – called a Panakhhyda – for victims of the Russian invasion. 
Father Yosafat Khaimyk, OSMB (Order of St. Basil The Great)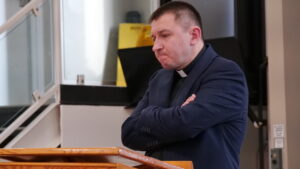 Father Khaimyk came to Edmonton in 2021, before the Russian invasion, from the Kamin-Kashyrsky region. He has two brothers serving with the Ukrainian army. His family remains in Ukraine. He is now serving within the Edmonton Ukrainian Catholic Eparchy. 
Father Khaimyk hosted a discussion about the 2014 Revolution of Dignity, also known as the Maidan Revolution. It was a  freedom protest movement in which he ministered as a priest at the morgue, where persons killed in the violence were taken. 
"During the Revolution of Dignity Ukrainian students showed great courage, and when they were brutalized by the police they ran to and found refuge in the church, the Monastery of St. Michael (in Kyiv). Now with the war, all our monasteries have become a refuge,"  Father Khaimyk said. "The war with Russia is a war with young people, the young people of Ukraine."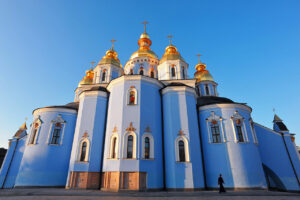 Olha Louise, a University of Alberta student from Kyiv who escaped to Canada this year.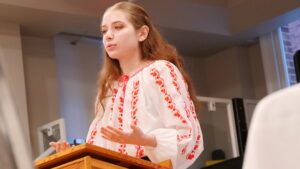 "I had a lot of hopes for 2022," Olha said. "I was about to start medical school back home. Then in February, I woke up to the sounds of explosions. The first thought I had was that it was rain, weather. Then my phone started ringing with phone calls. 
"My life changed forever. I took a risk to get to the train station; it was almost impossible to get on a train, so many people. I made it to Poland, worked for the Canadian embassy, then I got a scholarship to the University of Alberta. I still feel guilty for this new life, for leaving. So many young people can't go to school in Ukraine now."
Solomiia, a University of Alberta student from Kyiv who escaped from the Ukraine war this year.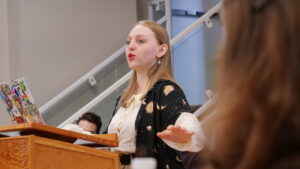 "The first thing I heard [during Russia's first attack in Feb 2022] was a whistle," Solomiia said."I got to a train station. People were falling out of the train. There were so many trying to get on and there were people covered in blood."
"I left my friends, family, and country to come to Canada. I am here to advocate for my country, my nation, my people," she said. "Ukrainians don't need pity. Pity is for the weak. We will prove our strength in victory."
Regina, a student who recently escaped from Eastern Ukraine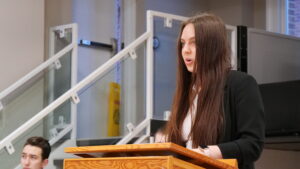 "After the annexation of Crimea (in 2014), my family escaped and built a new life in Kyiv, the capital of Ukraine. February 2022 was the end of that hope," Regina said. " I woke up to a call from my friend who said, 'It's happening again.' Silence was the scariest thing. Silence meant the moment before the next missile attack."
Bishop David Motiuk of the Ukrainian Catholic Eparchy of Edmonton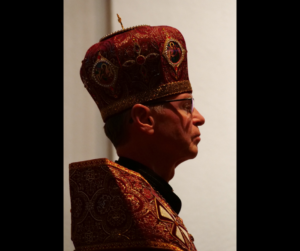 "Mary, the Mother of God… I've been praying to her as a mother to intercede to her Son… We pray that Mary works another miracle. That her protection, her intimacy with her Son, Jesus our Savior, will prevail. As Christians, we live in the reality of the darkness that surrounds us, but the darkness will never overcome. Mary is our champion, our hope for the people of Ukraine."
*
*
At the venue, the walls were covered in pictures of young people killed as a result of the Ukraine war, some of which died directly in battle. Listed below each image were the names of the young adults, their dreams before the war, and how they died.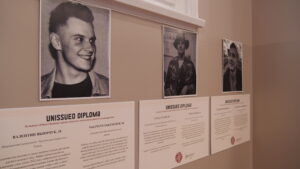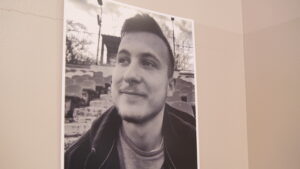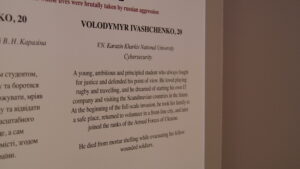 A somber, candlelight prayer vigil, a Panakhyda, was said in the St. Joseph's College chapel for those young people who died, as well as for all who have died in Ukraine as a result of the Russian invasion.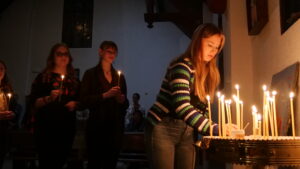 Present at the Vigil For Ukraine was an icon of our Mother Mary which was made in Ukraine from the wood of ammunition boxes. The icon was previously blessed by Bishop David Motiuk and Archbishop Richard Smith at the vigil for Ukraine which was held in Edmonton at the Alberta Legislature on February 24.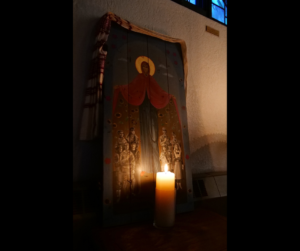 Please continue to pray for peace in Ukraine, for comfort to the families of those that have lost loved ones to the violence, and for justice amid tragedy.
To support the Edmonton Eparchy goal of raising $3 million for the relief of Ukraine: eeparchy.com/donate
Jenny Connelly, Matthew Bodnarek – Archdiocese of Edmonton