Azenette Trongco is a new candidate with the Sisters of Providence community in Edmonton. 
Azenette grew up in Bukidnon, Philippines and immigrated to Canada in 2010. She is both a teacher and a healthcare worker, most recently having worked in the healthcare field in Calgary. 
Azenette first heard about the Sisters of Providence through a retreat. She moved to Edmonton in February 2022, to begin her discernment of religious life. She shares her reflections on discerning her vocation with the Sisters of Providence. 
In Edmonton, there are 24 Sisters of Providence and globally there are 320 members of the community.
"What if religious life is for me?" I did not think much about the question the first time I thought of it because I was confident that religious life was not for me. 
I have been actively involved in the Church and a Catholic charismatic community called Singles For Christ. I was trying my best to walk the talk and live the faith. I want to be a living witness to how I overcame trials and used them to fuel the desire to become a better version of myself. 
I never mentioned the stirring within about religious life to family or friends but I did to my spiritual director. At the time, I was advised to process the idea: know the reasons for pursuing the vocation and that I was not running away from something. I took the advice to heart. 
Yet at the back of my mind, I thought maybe this is just a phase in my life, and eventually, this question will gradually disappear from my thoughts. However, in the past six years or so, the question stayed. It lingered. I would ask this question during my quiet time, prayer time, when I was on the bus, train, or driving, especially when I would see religious people. I would laugh at myself every time. There is no way I am heading in that direction!
Over time, the asking, "What if religious life is for me?" became frequent. I want to believe that the best tool for discernment is action. So, I mustered the courage to act and reached out to the Sisters of Providence. 
In November 2021, I started my Come-and-See journey with the Sisters of Providence in Calgary, and by February 2022, I moved to Edmonton to continue the journey. 
I was immersed in community life. The experience became an occasion of growth and self-knowledge: an opportunity to understand others and myself. I felt loved and supported by the Sisters, and it caused me to appreciate the vocation to religious life.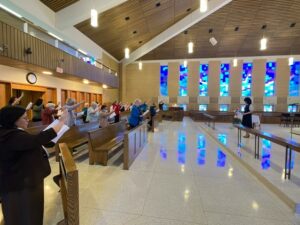 On Feb. 18, 2023, I entered as a candidate and the ceremony was held at the Providence Centre Chapel in Edmonton, with friends, family, Sisters of Providence, and sisters from other congregations present. 
As I continue to learn about myself in the context of religious life, I trust in Divine Providence in this journey of unfolding the question that led me here: "What if religious life is for me?"
To learn more about the Sisters of Providence: www.sistersofprovidence.ca
Jenny Connelly – Archdiocese of Edmonton