The Catholic Women's League has returned with strength and vision to Sacred Heart Church of The First Peoples.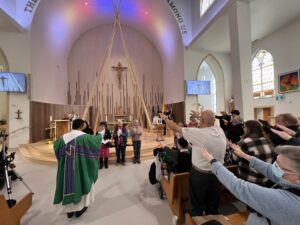 At the 11:30am Mass on Feb. 19, the Sacred Heart community marked the reactivation of their longstanding membership with the Catholic Women's League by honoring the eighteen women who are currently members of Sacred Heart's CWL chapter. Following the Mass there was a reception in the St. Kateri Hall, where parishioners were able to meet and ask questions about the new initiatives that the local CWL are leading.
Candida Shepherd is the president for the Sacred Heart CWL and she is leading the way for this revitalized chapter of the CWL with Anna Beaulieu (vice president), Michelle Belanger (service lead), and Judith Frank (social justice lead).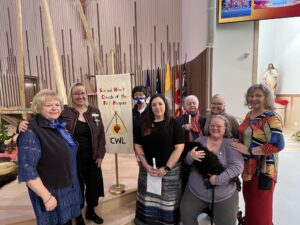 The Sacred Heart CWL are leading many initiatives in the coming months, including events of Indigenous cultural engagement, hot meals prepared for ministry events, and participation in the upcoming Red Dress Day March, in honor of missing and murdered Indigenous women in Canada. For more information on these events go to: sacredpeoples.com/contact/
Women 16 years and old are welcome to join the CWL at Sacred Heart Church. Contact Candida Shepherd for more information: sacredheart.firstpeoples@caedm.ca