Andrew Bennett is ensuring that the voices of Catholic young adults in Edmonton are heard on the global stage through the Synod on Synodality, a three-year worldwide journey examining the future of the universal Church. 
Bennett has been attending St. Charles Parish in Edmonton for seven years. He's also involved with CYEG, a growing organization of Catholic young adults in Edmonton. He works as a senior intergovernmental officer for the Alberta provincial government.
Bennett was one of the main volunteers who coordinated the CYEG young adult Synod listening circles in March 2022. Approximately 60 young adults shared about what was most important to them as Catholics. This was the beginning of Bennett's work as a representative in the global Synod.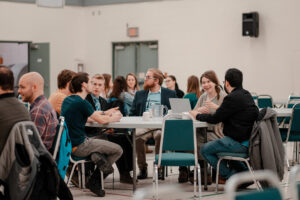 In December, Bennett was asked to be one of five representatives of the Synod at a continental level, sharing the perspective of Edmonton young adults with representatives from all over Canada and the U.S.
"We wanted to make a very conscious effort to make sure our youth were being represented and Andrew was in the best position to represent that," said Dr. Eugenia Pagnotta-Kowalczyk, general coordinator of the Synod for the Archdiocese of Edmonton.
"He was the perfect person because he is very humble and thoughtful and because of his involvement in the community and with CYEG he was perfect for the job."
Bennett was also invited to present his perspective at a virtual session with Cardinal Mario Grech, the Vatican Secretary-General for the Synod on Synodality.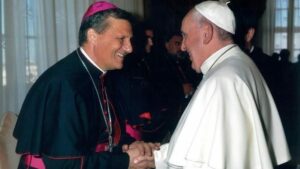 We had the chance to speak with Bennet about his experience, his initial skepticism towards the Synod on Synodality and how it has changed him as a Catholic.
Before you got involved with the Synod, what did you think of it?
Well I follow Vatican News on my Instagram feed and I was reading about the Synod, this "universal consultation." I wasn't optimistic. I wasn't sure that the Church would actually do anything with what was learned through the Synod, but I thought it would be an interesting initiative to be involved with.
I remember talking to the CYEG executives. I kept asking if CYEG would get involved with the Synod, because I also hadn't heard anything from my parish.
I was thinking of being a part of it – not leading or organizing anything. I wanted to answer the Pope's call. So it was a surprise when I ended up in a position of organizing and representing!
What has changed about your perspective on the Synod?
I learned a lot through this process. First of all I will say – my experience was not like a town hall or a debate. We were sitting and listening to everybody, listening to people's grievances and joys.
As I was reading the news, there are lots of concerns from different segments of the Church that this (Synod) is dividing the Church. . . but I didn't see that in my personal involvement. I saw that whatever concerns people were sharing in the Synod, they shared it out of love for the Church.
In the circles I was a part of, I did not experience any divisions or people trying to change doctrine.
After this experience I became very optimistic. I think something good is going to come out of this and I hope and pray that it does.
What did it feel like to be a representative for young adults at the Synod?
Well one of the things was that none of us (involved in the Synod) knew what was happening, what was going on. I think that is a general complaint throughout the Synod from a lot of people.
But I was asked to represent young adults. I saw that one thing that every listening circle had said was that there was a need for greater spiritual formation. That touched me greatly.
It's a tragedy that people don't know their faith – that they are crying for it. What really hit me was hearing that many young adults felt that the Church was not a source for them to learn about their faith. That really touched me.
I grew up in Pakistan and Dubai, and there the Church took an active part in spiritual formation. We had classes and if we failed one – like a confirmation class – you couldn't get confirmed. I still credit the Church over there with my spiritual formation. It really grounds you in who you are.
I knew that the need for spiritual formation was something very important that I needed to advocate for. To make sure that was heard.
The American representatives that I spoke with, they were mostly talking about getting the credibility of the Church back., I was the only one that was saying "Hey, we just need to learn our faith.". That is what young adults are craving. If we give people good formation then maybe everything else will be easier.
The heart of the message that I advocated for was the need for faith formation because once we know our faith we can  "grow our tent" as the Synod documents say.
What did you learn from the other four delegates from the Edmonton Archdiocese?
Karen Wildcat – an Indigenous representative – asked in our last debriefing "What about the people who have not been heard?", especially Indigenous people. In a time when we are talking so much about reconciliation, we need to focus on hearing Indigenous people.
(Editor's note: Wildcat is a member of the parish council at Our Lady of Seven Sorrows in Maskwacis, where she coordinates the St. Kateri annual gathering. Wildcat is also a member of the Alberta planning committee for the papal visit in 2022.)
Based on your experience of this whole process – what do you hope will be some positive outcomes in our local Archdiocese from this Synod?
I really hope we focus on spiritual formation. We all heard "faith starts with the family" but we don't have the same family structures that we had in the past . . . so the Church – parishes, schools –  needs to play a more active role in spiritual formation.
What did you think of the process of the Synod overall?
The Archdiocese basically told me – do what the Holy Spirit tells you. Speak your mind. I think that was a good decision. The Archdiocese was not involved in telling me what to say. But we did have time limits to share in each listening sessions – often only three minutes to talk.
I really felt that I need to advocate for what young adults in our Archdiocese shared and so I put that responsibility on myself! I was nervous to speak in the session with Cardinal Mario Grech. How am I going to say everything in three minutes? But I finished everything in exactly three minutes!
When we did the CYEG listening sessions a lot of it was centered on saying "We need to build more young adult activities in the Church. We need support to grow. Don't consider us as the future; consider us as the present!" And a lot of those issues have to be tackled at a local level, not a universal level.
How has this impacted your personal faith?
Coming out of this Synodal experience, I just feel like I need to share my faith with other people, to show them what Catholicism is actually about, especially people who are struggling with their faith. I myself have felt that the culture can be very aggressive against our faith and people can get easily derailed from their faith because of other powerful ideas that come at them.
To listen to Archbishop Smith's podcast on the Synod: caedm.ca/synod
To learn more about CYEG, a Catholic young adult's community in Edmonton follow "C-YEG" on Facebook or email catholicyeg@gmail.com
To learn more about the continued unfolding of the Synod: www.synod.va/en.html
Jenny Connelly – Archdiocese of Edmonton