The Archdiocese of Edmonton participates in an ecumenical justice housing initiative called No Room in the Inn, based on the biblical story of Mary and Joseph being homeless after discovering that there was no room in the inn in Bethlehem the night that Jesus was born.
No Room in the Inn appeals to the people of churches in Edmonton and area at Christmas time to think about those living in our community who do not have adequate and safe housing.
Parishes contribute in different ways. Some share directly from the parish Christmas Eve collection. Some invite parishioners to contribute through a special Sunday offering. Others do a special fundraiser or make a special parish donation.
Each year the No Room in the Inn Committee selects a specific charity to support.
Our campaign this year is in support of A Safe Place.  A Safe Place is a residential facility opened in 1984 for those who are escaping intimate or family violence, in Sherwood Park.  A recent review of their facility found major and unexpected issues with the roof.  As they say in the brochure (attached to the email) the No Room In the Inn campaign will literally put a roof over their heads.
You will also find attached a single page poster that, along with the brochure, can be printed locally.
The poster is in JPEG format so that it can also be posted on your parish's web page, bulletin, or Facebook page.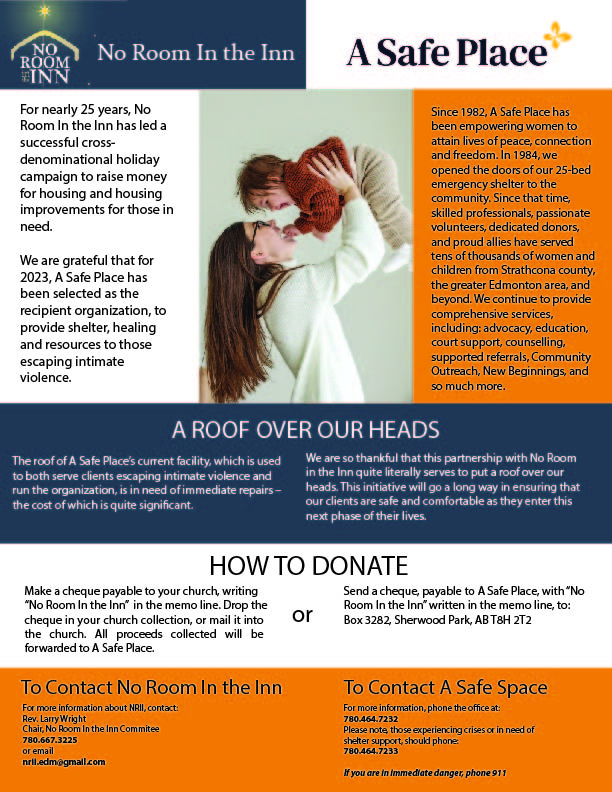 On behalf of the No Room In the Inn Committee of the Edmonton & District Council of Churches, I welcome your continued support of this unique ministry in our area.
For more information, please contact me.
With gratitude for your assistance,
Sincerely in Christ,
Larry Wright
President, Edmonton and District Council of Churches
Chair, No Room In the Inn Committee
---
How to Donate:
Make a cheque payable to your church
Enter "No Room in the Inn" in the memo line. Drop the cheque in your church collection or mail it to your church. All proceeds collected will be forwarded to Canadian Mental Health Association – Edmonton Region.
Cheque payable to Canadian Mental Health Association – Edmonton Region
Enter "No Room in the Inn" in the memo line and mail cheque to:
CMHA Edmonton
#300, 10010-105 Street
Edmonton, AB T5J 1C4
Donate Online
Visithttps://edmonton.cmha.ca/get-involved/donate/ to make a secure online donation.