by Peter Dai Nguyen
It has been seven years since I left my beloved homeland, Vietnam, and my parents, relatives, and friends to come to the isolated and cold arctic region to answer the call to be a missionary.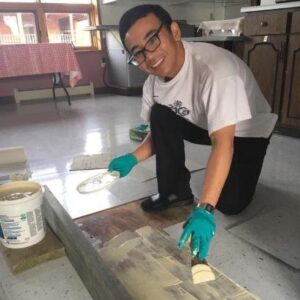 (Peter Dai Nguyen is a second-year student at St. Joseph Seminary. He is from Phuc Vinh, Vietnam. He spent his first year living at Trappers Lake, north of Yellowknife. This past summer he spent a month in Tuktoyaktuk.)
The first six months after I arrived were full of hardships and challenges. The winter season lasts almost six months of the year, and it was dark for three-quarters of the day in winter.
Overcoming those challenges in the beginning has helped me grow more and more. A large geographical area (1,523,400 square kilometres), the Diocese of McKenzie-Fort Smith is nearly five times the size of Vietnam, but the land is sparsely populated.
This means that pastoral work has its own set of challenges compared to the south or any major city. The biggest difficulty for pastoral work is travel. Many communities are in remote, isolated locations, and missionaries can only travel to them either by a small airplane in the summer or an ice road in winter.
As a seminarian, I have had the opportunity to visit many missions in the diocese, and each village has left an indelible mark on me.
Living up North, I cannot just be a seminarian, but I must also be a woodcutter, an auto mechanic, a taxi driver, a painter, a plumber, a builder, and a fisherman; learning to live in the Arctic requires me to develop many skills.
The number of priests in the diocese (six) is very limited, which causes pastoral work to be even more difficult, and I am the only seminarian for the diocese.
The joy of a missionary is to see many people coming to Jesus in the Eucharist every Sunday and to see children learning the name of Jesus. I pray that there will be more young people who would devote their lives to the service of the Church.
-This article was first published in the fall issue of 'Exiit Qui Seminat', the newsletter of St. Joseph Seminary