Sacred Heart Church of the First Peoples has a history of providing food for the needy, primarily through banquets at Christmas, Thanksgiving, and other times when families usually gather for festive meals.
Many of those who live in the inner city of Edmonton don't have strong connections with their own families, so the parish has become that place where people with little means can feel honoured by being served a full meal by parish volunteers.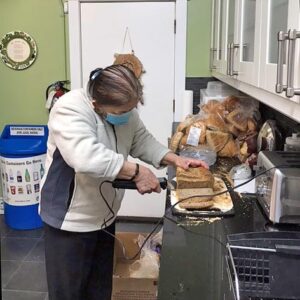 Early in the pandemic, some social service agencies stopped serving meals in their facilities. Since the pandemic started, more people present themselves at the church door asking for food.
Sacred Heart responded by preparing bag lunches for the homeless and struggling people who were coming by the hundreds each week for help.
Sacred Heart parish did this despite the devastating church the fire in 2020. As the parish launches its fundraising campaign to rebuild the church, they did not close the doors to those in need.
Each weekday after the morning mass, a handful of parishioners remain and prepare dozens of sandwiches and snacks for bag lunches that will be handed out during the day. Other volunteers come later and remain all afternoon to respond to requests for lunch or articles of clothing.
"All the bread and pastries for the lunches are donated by Salvation Army and COBS Bread Bakery and we are most grateful for that they deliver good surplus bread right to our door each week," says Father Mark Bloom OMI, associate pastor at Sacred Heart parish.
"We purchase sliced meat, spreads and water from donations to the lunch program. We freely give out as lunches all the funds that we receive from our parishioners and benefactors," Father Mark says.
"On behalf of the hungry who come to our door each we thank you our supporters who bless us with providence that we can pass on to those in need."
St. Rose Catholic School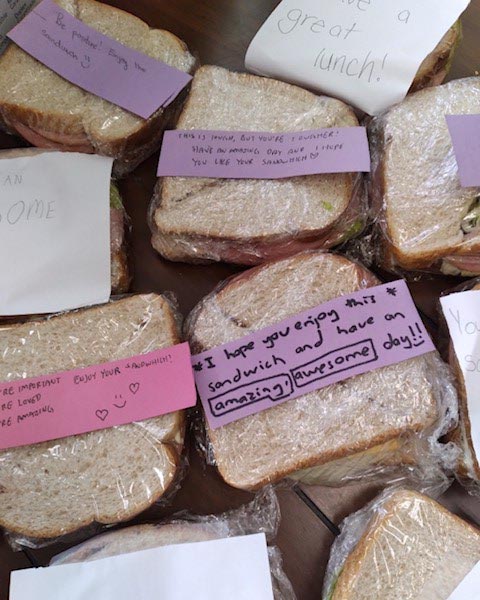 Church teaching tells us that all human life is worthy of dignity and respect. We all are one, regardless of national, racial, ethnic, economic or ideological differences. And during the pandemic many Catholics have done above and beyond to be "one" people.
Students at St. Rose Junior High Catholic School in Edmonton gave back to the community. They made and delivered sandwiches to Sacred Heart Church of First Peoples for their sandwich program.
Students added a handwritten note to each sandwich to show respect and solidarity with those who come to the parish for help. Those notes have put smiles, and tears, on many faces. It's a beautiful example of kids learning that they can build a better community by small acts of kindness.
Adjusting on the fly….. like everyone else.
COVID-19 has prompted tremendous change. Restrictions on social gatherings have made weekly sit-down luncheons for the less fortunate at the ecumenical Inner-City Pastoral Ministry impossible.
Fortunately, the pandemic did not stop the Catholic Women's League and Knights of Columbus council of Our Lady of Perpetual Help Parish in Sherwood Park. They just had to adjust on the fly….. just like everyone else. Following the province's health guidelines, they completely re-invented the normal format of a sit-down meal of fresh foods for the needy. Instead, they prepared a pre-packaged lunches with nutritious items, including fresh fruit, and beverages.
Michael Borynec, a member of the Knights of Columbus at the Our Lady of Perpetual Help parish said: "We are changing the ways we are doing everything, but that doesn't mean we're going to do any less. It means we're going to do more."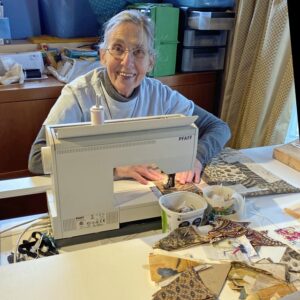 Twenty CWL members sewed more than 200 custom bags — a keepsake for recipients of lunches provided by the Knights along with the Inner-City Pastoral Ministry staff.
The CWL's pandemic sewing project did not end there. Members continue to sewing face coverings. They have made more than 1,000 masks. Most were given to inner-city residents at the Edmonton EXPO Centre, a centralized homeless services location during the height of the pandemic (April through July 31).
Currently, CWL members are sewing face masks for volunteers at Habitat for Humanity ReStores and Edmonton Catholic Schools' Our Lady of Grace program for parenting teens.
Interesting Fact: The bags sewing project will be memorialized at the Royal Alberta Museum!
Museum staff have been in touch with CWL ladies to obtain samples of the lunch bags the ladies sewed for the Inner-City Pastoral Ministry lunch. The bags will be part of an exhibit on the pandemic in Alberta.
Way to go ladies!