In March of 2020 with the onset of COVID-19, classes at St. Joseph's College were quickly shifted online and all the residents were asked to vacate the buildings. This led to layoffs within the Food Services staff at SJC, as without residents or summer camps/groups to feed, there was no work.
In September of 2020, the dining hall reopened to a much different operating environment, since SJC's occupancy was only 30 per cent given that the courses continued online.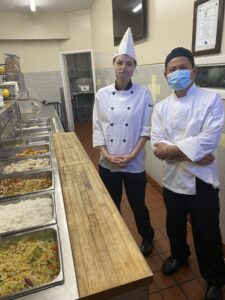 The Food Services staff came to work each day with a positive attitude and friendly face for the residents, despite not being able to return to their full-time status.
Within weeks of the reopening of the buildings, an outbreak of COVID-19 (more than five people in the same living environment) occurred, meaning nearly all the male residents needed to isolate, even though nearly all tested negative and had no symptoms.
The Food Services staff immediately began delivery of three meals per day to these men in isolation, and these deliveries were the only time these men saw anyone for almost two weeks.
At various points throughout the year, expectations changed with little or no notice for the Food Services staff.
They always adapted and whether the dining hall was empty and all meals were takeout, or if dining was allowed, the staff were a constant source of comfort for the young residents living an isolated life in our buildings because of restrictions. Additionally, they created a prepared-meal delivery option for the residents.
They delivered exceptional quality to all of our residents despite the adversity they were each facing themselves. They are true heroes.