Getting from Calgary to Edmonton through the blizzard to get it done
Last November, during the second wave of COVID-19, Javier Martinez drove through a snowstorm from Calgary to Edmonton so he could work at a continuing care site dealing with outbreaks.
Several staff at Chateau Vitaline were in isolation, and Javier, a resident care manager, volunteered to help cover shifts for a few days. But first, he had to navigate Highway 2 in his Toyota Corolla.
"I don't know if I thought too much about what was ahead. It was more 'Let's go. Let's get it done. Let's help as much as possible.' First of all, the only thing that was in my head was 'I need to get through this blizzard.'"
Javier, who works at Covenant Care's St. Marguerite Manor, was happy to help at its sister facility in Beaumont.
"I did anything that needed to be done," says Javier, a registered nurse. "I administered medications. I provided bedside care. I provided support by stocking supplies, taking out the garbage, talking to residents and spending time with residents, auditing."
Like many health-care workers on the frontlines, Javier had both professional and personal encounters with COVID-19. Two days after returning home from Chateau Vitaline, he tested positive for the virus. He believes he was infected by a resident with dementia. He had just left her room after an assessment. He was removing his personal protective equipment when she approached him.
"As I removed my mask and my face shield, I looked up, and this resident was just right in my face, talking to me," says Javier. "She was just right there in her doorway, smiling at me really close.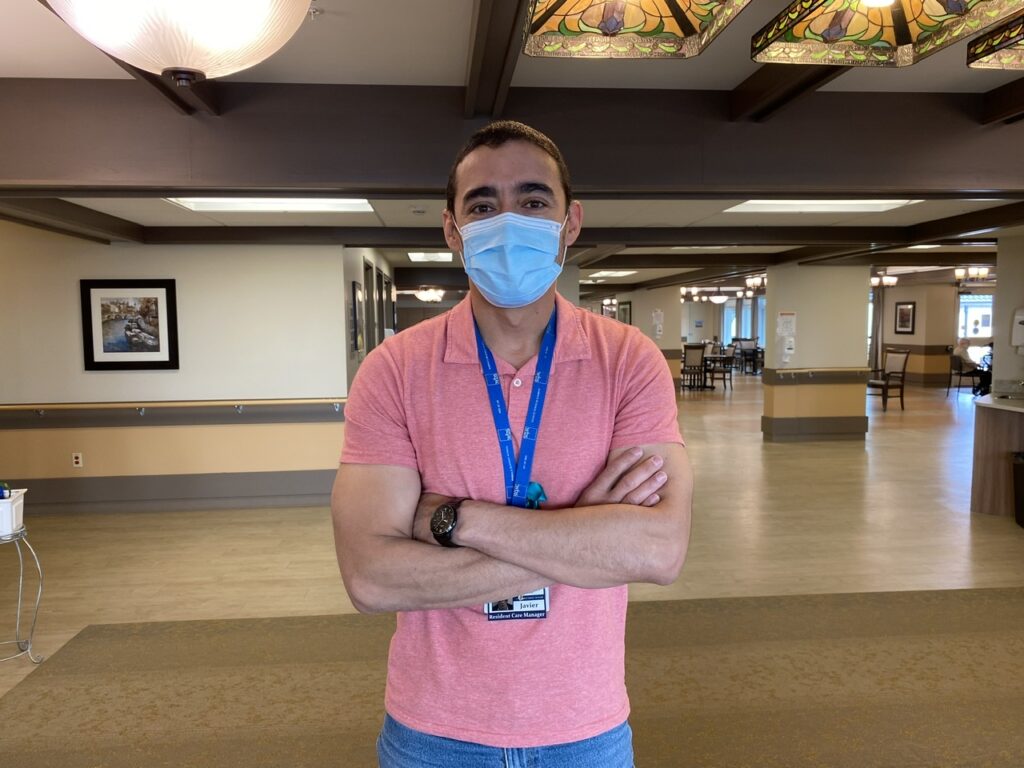 "It's really difficult when you have five kids. Two of them you have no control of because of their age and their inability to follow directions at their age. I tried to do some semblance of isolation downstairs, but my kids were always coming into my room to play with Dad or spend time with Dad."
Javier's quarantine ended after 10 days, but his family had to isolate for another two weeks. Spending more time together strengthened the family's bond and Javier developed a deeper appreciation for what residents experience when they isolate alone.
"That was a huge struggle for the family. It was almost a month when you think about it," says Javier. "We're fortunate that we're a large family, and we were able to keep each other entertained, and we had each other. But I cannot fathom people going through COVID alone."
From his clinical and personal experience, Javier is well aware of both the physical and social effects of COVID-19, and he is grateful for how his Covenant Health colleagues responded. He says a key factor was bringing in extra staff when residents with dementia tested positive. Those residents tend to wander, which increases the risk of transmission.
Javier also appreciates how the St. Marguerite team supported his return to work while he was dealing with the after-effects of COVID-19. He says it took a few weeks for him to get back up to speed due to the mental fogginess he experienced.