We are all in this together COVID-19 continues to have a tremendous impact on the education of our young people. The unique partnership between school and home was disrupted. We had to think outside of the box. All of us had to face challenges, especially teachers and parents.
During the shutdown of schools, teachers, school staff and parents took collaboration to a new level. Virtual classrooms and home learning continued to engage students in their learning. They kept reassuring kids. They worked together to calm kids' fears of not seeing their peers.
When the schools reopened, many new measures were put in place to comply with provincial protocols and to ensure students' wellbeing and safety. Teachers and parents learned to adjust continuously.
St. Thomas Aquinas Catholic Elementary/Junior High School
"I would like to acknowledge, celebrate, and have recognized the Amazing Quiet Heroes of St. Thomas Aquinas during the 2020-2021 school year.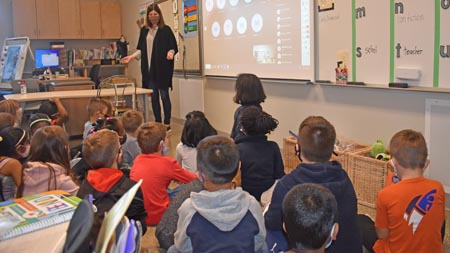 Our entire staff 'stepped up' to ensure that our students were safe and cared for during this difficult school year. Our teachers made the decision at the beginning of our school year to teach in a synchronous platform. Choosing to do this meant that each teacher would have students learning online and in person each and every day.
Making this choice meant that our students could remain part of our school and classroom community. The students were not segregated into online classes and in person classes but remained with their classmate throughout the year, learning along side their friends who were learning in person. This was of great benefit to our students not only to assist them in progressing academically, but for their mental health as well, allowing them to stay connect to their friends at school.
Our parent community was very appreciative of this format, when their children needed to isolate due to being a close contact or because they were experiencing symptoms they could continue learning with the classmates, never missing important instruction or connection.
Our teachers took on an enormous task; creating lessons for online instruction and adapting the way they taught. They had to adjust everything they did to accommodate students in both formats. Teachers worked hard to keep our online students actively engaged in the lesson, while at the same time monitoring students in the classroom.
When a COVID positive case was identified in their classroom, they were ready to pivot once again to teaching the entire class online from their homes. If their class was quarantined students were given devices and sent home. I witnessed teachers reassuring their students that they would continue to learn online, and they would see them the next morning on TEAMs so that they could continue their work. This was so reassuring for our students, it helped to calm their fears, as they were being sent home to learn.
The teachers held parent meetings via TEAMs to stay connected with their families and to report student achievement to them. Without these quiet heroes, our students' school year would have been very different; their willingness to stay connected to students in their class benefited students and families in general. Our educational support staff continued to work with their students on specialized programs, they connect with them via TEAMs when needed as well as in school. In those months when everyone was sent home to learn online, some of these students remained as in class learners and our educational support staff came in to work with them in the classrooms.
Our front office staff was amazing in continuing to keep the lines of communication open with our families. They answered e-mails and phone calls to take the information of families who had tested positive and needed to report a case of COVID in their homes. They reassured our families calming and assisting them in understanding what this would mean for their children's learning for the next few weeks. They helped to keep track of the data as we moved through the school year. They assisted students who were not well and needed to go home.
As a result of their dedication to our student and their families I want to salute and thank The Quiet Heroes of St. Thomas Aquinas School 2020-2021."
– Danita Power,  Principal
St. Thomas Aquinas Elementary / Junior High School
Jim Salsbury, principal at St. Mary's Catholic High School in Vegreville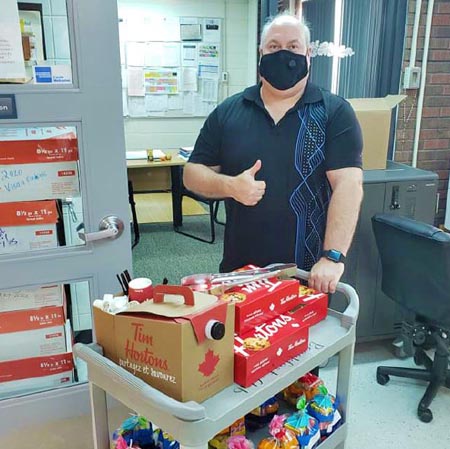 Jim is a principal at St. Mary's Catholic High School in Vegreville. Jim is truly a great example of an everyday hero who has emerged through the trying times of the COVID-19 pandemic.
Jim's incredible compassion and his commitment to student and staff wellbeing were only amplified during the response to pandemic. He was a constant source of understanding, assistance, and direction to all staff and students. In particular, Jim endured personal hardships during the pandemic – not the least of which was losing his twin brother to the virus after a long and difficult battle. While many would justifiably be tempted to "shut down" or withdraw, Jim was able to use this tragic event to the betterment of all. It is one thing to show compassion and understanding to those going through a difficult time, but it is entirely another to have lived through one's own challenges.
This truly enabled Jim to walk with staff and students alike as they experienced their own challenges with these pandemic times in the midst of what was a truly difficult school year for all.
In our current school year, still fraught with uncertainty, Jim has been able to parlay his experience of the loss of a brother to COVID-19 as a "way in", as it were, to getting students onside with diligent mask wearing and COVID-19 protocol at his school.
On the first day of school, Jim met every student at the door, inviting them to wear a mask. Out of respect for his leadership, he had a compliance rate of over 95 per cent, more than double other schools in the community.
All of this was done in the midst of an incredibly warm and caring environment in which students and staff alike realize they are truly in this together and that they need to care for each other – not just do the bare minimum. He has done all this with grace, patience, and a faith-filled heart.
– Elk Island Catholic Separate School Division
Technology Services Staff
Edmonton Catholic Schools would like to give a shout out to their Technology Staff. They work diligently at ensuring all of their technology needs are met, always behind the scenes, always working, always solving I.T. issues.
https://player.vimeo.com/video/642830761