Twenty-five students came together in faith to answer the question: "We are Catholic… now what?"
That was the theme of this year's annual youth retreat Sept. 12 at Our Lady of Perpetual Help parish in Sherwood Park. Students from Grades 7 through 10 attended the event with the help of eight students from Grades 11 to 12.
Often we can become complacent, and it is especially easy when we are young and done with our sacraments, to sit back and take in the view of the Church from the outside only.
However, this is not what was meant for us. The sacraments should be stepping stones to so much more and at the very least attending Mass regularly. But that is not enough! We need to seek to build real, authentic relationships with Christ and we do this by frequenting the sacraments, a personal prayer life, and fellowship within our faith communities.
That is what OLPH YOUTH is about! It is about giving youth the opportunity to regularly practice their faith as a community. To support one another in the faith and to encourage each other to grow spiritually by modeling and praying together and for each other.
When Grade 12 volunteer Thomas Corrigan was asked why he attends OLPH YOUTH he said, "I thought I was a good Catholic until I came to OLPH youth. Then, by seeing other youth much more fully alive in their faith than I was, I realized I had a lot of work to do! These youth constantly inspire and push me to dive deeper into my faith!".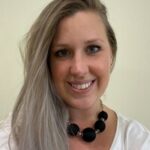 Let us not back away from the richness of our Catholic faith but inspire each other to go deeper through prayer and community!
If you want to know more about OLPH YOUTH, our in-person and online events, follow us on social media or go to our website.
-Tricia Murphy is chaplain at Archbishop Jordan High School, and the youth coordinator at Our Lady of Perpetual Help church in Sherwood Park. She is currently a student at Newman Theological College, a wife, and a mom of three spirited boys under 5.
Note: Youth and young families are the future generation of Catholics. Do you have an event planned or did you participate in one recently? Tell us about it. Email us at communications@caedm.ca. We will share your event on the Archdiocese of Edmonton website and in our electronic newsletter, The Window.