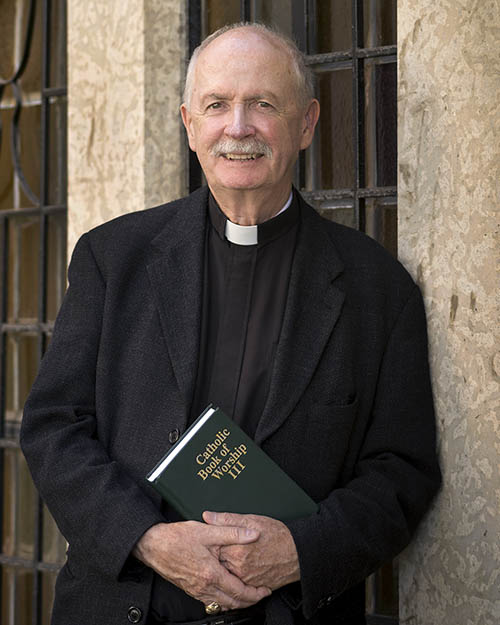 Rev. Mike McCaffery, a pastor, mentor, teacher and community leader in the Edmonton Archdiocese for more than 50 years. He was 85.
"This morning I was very saddened to learn of the death of my friend and brother priest, Fr. Mike McCaffrey," Edmonton Archbishop Richard Smith said in a statement:
"As I tried in my mind to capture the significance of his death, superlative phrases sprang to mind, as I am sure was the case for many others who knew him, like 'Death of a legend,' 'the passing of an era' or 'the end of an institution.' These are all true, so extensive was the impact of his priestly ministry on the people of this Archdiocese, and so many were his accomplishments.
"My heart goes out to the members of his family, to his many friends, and to his brother priests in the Archdiocese, who mourn his death. Father Mike was well loved and greatly respected as a priest who loved to help other people, especially those on the peripheries. May our merciful Lord now grant to Father Mike the gift of everlasting life."
Born Charles Michael McCaffery on Sept. 17, 1935 in Bassano, Alta, he spent his early years in Brooks before moving to Edmonton. McCaffery studied at St. Joseph Seminary in Edmonton from 1954 until 1961, when he was ordained on Sept. 23 of that year at St. Joseph's Basilica by Archbishop Anthony Jordan.
From 1961 to 2003, Father McCaffery served various parishes in Edmonton, Maskwacis, Leduc, Mearns and Red Deer. In 1970, he took a leave to complete his master's degree at Fordham University in New York City and a religious leaders' certificate at the University of Notre Dame in Indiana.
In 1972, Father McCaffery taught at Newman Theological College and was later appointed vice-principal and then president of the college from 1978 to 1983. His compassionate stewardship made a lasting influence on Newman Theological College, so it was natural to honour his name and legacy with the establishment of the Fr. Mike McCaffery Chair in Pastoral Theology in 2007. Father McCaffery also served as vice-rector of St. Joseph Seminary for six years before returning to parish work as a pastor.
In 1987, Father McCaffery became rector of St. Joseph's Basilica. A year later, McCaffery officiated at the wedding of hockey great Wayne Gretzky and his wife Janet. With his trademark humour, Father McCaffery said in an interview: "Wayne Gretzky's wedding is what I'm remembered for. That certainly made me famous for five seconds."
Father McCaffery was chancellor of the Edmonton Archdiocese through most of the 1990s. McCaffery officially retired in 2000. But he continued to perform Baptisms, weddings and funerals. He also celebrated Mass for the St. Mark's Deaf Community. Father McCaffery also served as a Fifth Step listener for recovering alcoholics.
Throughout his ministry, Father McCaffery kept close ties to community, working with the Family Service Bureau of Central Alberta, Social Planning Council in Red Deer, the Edmonton Housing Authority, the United Way, Catholic Social Services, Junior Chamber of Commerce, Progress Club of South Edmonton and the John Humphrey Centre for Peace and Human Rights.
He received the Paul Harris Fellow award, the highest recognition given by the Rotary Club, and the Monsignor Bill Irwin Award of Excellence in Community Leadership. He was also named to the Alberta Order of Excellence in 2005.
Let us pray for the repose of Father McCaffery's soul and the souls of all the faithful departed, that they rest in peace. Funeral arrangements will be determined at a later date. Father McCaffery died due to possible complications related to COVID-19.
Vigil Prayers
Tuesday, January 19, 2021 at 7 p.m. hosted by Star of the North Retreat Centre on Zoom.
Join Zoom Meeting: (Link opens at 6:45 p.m.) Click link below, and enter passcode: Vigil
https://us02web.zoom.us/j/87488390619?pwd=K0ExNElpZjU3dW1UeFNuYUVwNit2Zz09#success
The funeral Mass will be livestreamed on Jan. 20, 2021 at 11 a.m. on these platforms:
For more information contact:
Andrew Ehrkamp
Communications Lead
Mission Advancement
Andrew.Ehrkamp@caedm.ca
T: 780-469-1010 x 2441
TF: 1-844-469-1010
Cell: 780-399-6523
Tribute Video:
Read the full story on Grandin Media. You are encouraged to share your condolences and memories of Father Mike in the comments below that story.