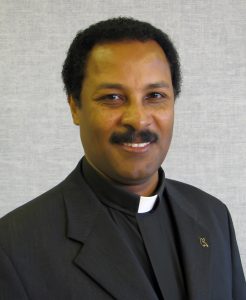 With sadness we advise that the mother of Rev. Tesfu Kelati, priest of the Archdiocese of Edmonton, died on Friday, September 18, 2020.
Abrehet Bahta died in Eritrea.
Father Tesfu is the pastor of St. Emeric Parish, and he also serves as the chaplain of St. Benedict Chapel in downtown Edmonton.
We offer condolences to Father Tesfu and his family.
Let us pray for the repose of Abrehet Bahta's soul and the souls of all the faithful departed, that they rest in peace.