Father Frank Sharma has been waiting to be a priest for his whole life.
He was ordained in the Archdiocese of Edmonton after a lifetime of hoping to become a priest and 17 years of experience and formation since he first entered the seminary.
Frank Sharma was born in Sri Lanka, in a small town that was consecrated to Our Lady Of Mount Carmel, a foreshadowing of his future ordination as a Carmelite priest. Both his parents are Catholic converts and his childhood was marked by involvement in the local church choir and attendance at Catholic schools, where he was taught by both priests and religious sisters.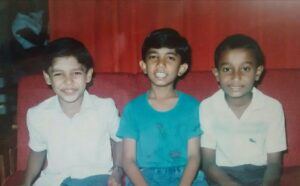 In 2002, Father Sharma immigrated to Surrey, BC with his parents and sisters and in 2005 he began his formal journey towards his dream of priesthood, by entering the Christ the King Seminary outside of Vancouver.
In 2017, Father Sharma left discernment of diocesan priesthood and entered as a postulant with the Canadian Carmelites in Mission, B.C. Father Sharma moved to the Mount Carmel Spirituality Centre in Edmonton in 2021 and he was ordained to the priesthood as a Carmelite priest on Sept. 3, 2022 at St. Joseph's Basilica.
We had the opportunity to speak with Father Sharma about his unconventional, 17-year-long journey to priesthood, his experience as a Carmelite priest and the joys and challenges of being newly ordained.
Do you remember what your impression of priesthood was as a young adult? Any negative impressions?
I didn't have negative experiences, but of course you here everything through the media – the abuses and the scandals – but that did not affect my idea of the priesthood. We do not put our trust in the person, but rather in the sacrament of Holy Orders and the Church.
Were you drawn to priesthood as a child? Do you remember the first time you thought of priesthood?
Yes, yes. From my childhood, I was drawn to the priesthood. I always had a vocation to the priesthood, but in my teen years I thought maybe not, maybe it is not for me. After I came to Canada, I was working at a warehouse for the Salvation Army thrift store and taking evening course at a local college. I was 20 years old.
I was thinking at this age: what am I going to do? People had lots of suggestions for me, but whenever I would think of myself as a priest, I was happy. But I wasn't sure what to do or where to go.
My parish priest – Father Augustine – in Surrey BC – he helped me, he prayed for me – a lot of people prayed for me.
Then it just happened. I asked the Lord "I don't know what to do. If I am to be a priest, if I am going to go to seminary, then you must lead." And that's what he did, without me doing anything, really. He led me to the seminary.
Initially, on my first visit to the seminary – I was like OK – and then I went for a second visit and they thought I came to apply to the seminary, but I didn't really!!
But they gave me the application and I just said "Ok, here I am." So I entered. I was 23 or 24 when I entered Christ the King Seminary in Mission, B.C.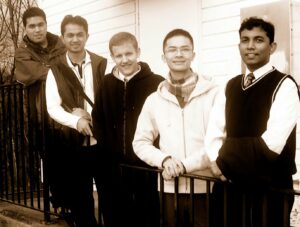 Why were you attracted to priesthood?
I have been close to Our Lady since I was a child, and that is what drew me to the priesthood. How do you say? She was like my guide since childhood, guiding me to the priesthood. She guided me to Christ – to have a personal relationship with him.
People used to ask me as a kid – do you love Jesus or Mary? I would always say Mary!
But then in my teen years, I first experienced a personal love of Christ – more than a friendship, an intimacy with Christ and from there my calling to priesthood developed.
How did the brotherhood of other seminarians impact your calling to priesthood?
Particularly under Christ the King Seminary in BC we were under the guidance of Benedictine monks. The community formation of the brothers is very powerful – with a strong interior prayer life.
I remember think it was amazing. We lived very closely as seminarians with the prayer life and community life of the Benedictine brothers. It actually helped us to bond and walk together, form friendships.
I didn't grow up with brothers, so it was eye-opening for me and it was very good. The community it helps me – even after I have become a priest – to stay in touch with other priests and to stay together.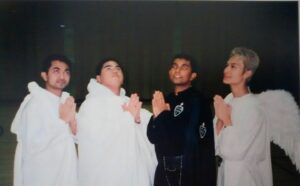 What did your family think of you being called to the priesthood?
I don't think it was a surprise for them. It's definitely hard, because they miss me being away from the family. But they never discouraged me. They wanted me to be happy and to follow the will of God. I've never received any discouragement. Some family members would ask, "Why do you have to go now? Why don't you go later?" But God's time – right?
But my journey to priesthood started in 2005 with the seminary and it has been 17 years, since I was ordained this year, in 2022. It has been a long journey!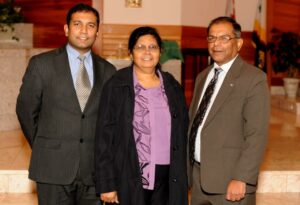 Why did it take you 17 years to be ordained?
Well, certain things were not my choice. After my first time at seminary in BC, my formators advised that I leave for a time, take some time off.
I struggled academically – though I did pass and I have my degrees. But, also English is my third language, so that is a struggle there and also the difficulty of studying philosophy in English – it's a big thing! That was the reason that my formators gave me – to strengthen my academic and language skills.
I think God has his own way of doing things. In those years of break I worked as an assistant funeral director, as a general labourer and as an assistant retreat coordinator.
How did your work in the world inform your priesthood now?
Now that I look back: everything was part of formation for me. Meeting people – the biggest value of those years is the relationships I was able to form and to learn from so many people. It can be so good to work in a non-religious environment, where we can share our faith and learn how to share our faith without compromising the truth, even in difficult places.
I still have many relationships with people from those years of work in BC.
How would you describe Carmelite spirituality?
The Carmelites were originally hermits. We don't actually know our origins. The legend says that it goes back to the time of the prophet Elijah. There were some men who were lay men who came together to pray and contemplate, and they did so in the caves of Elijah at Mount Carmel.
The name comes from Mount Carmel – not a person, but a mountain.
In the aftermath of the Crusades, the Carmelites had to move to Europe. They became a mendicant order and they struggled being Middle Eastern men in Europe, being misunderstood.
But that is when the legend says that the general leader of the order prayed to Our Lady for help. And then Our Lady appeared to the Carmelite leader and gave him the scapular as a sign of protection. And since Carmelite spirituality comes from the spirituality of the hermit – they had to live in cities, not in seclusion and then people started to come and they became more integrated with the wider Church.
Later on, St. Teresa of Avila and St. John of the Cross reformed the Carmelite order. St. Teresa wanted the cloistered nuns to be more faithful to their cloistered life but the friars were called to go out and preach and assist people.
Our daily life as Carmelites obliges us to have two hours – morning and night – an hour of contemplation. So we have a balance between an active and contemplative life.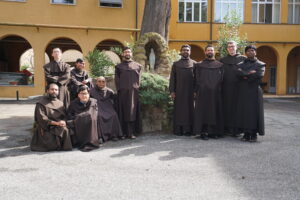 Why did you want to be a Carmelite?
I never wanted to be anything but a diocesan priest, not a Carmelite like I am now.
But I had always loved Carmel. First, it is an order dedicated to Our Lady and their spirituality – both interior life and apostolic work. I was always drawn to the writing of John of the Cross. And I think it was part of me, in a sense.
I am now very happy to be a Carmelite religious priest!
How did it feel to celebrate your first Mass?
It was a bit overwhelming. It felt like: "Oh my goodness, I've been waiting for this moment for my whole life!"
But at the same time, you have to get all the words right, the formulas for the Mass. So I was trying not to be too distracted by that, and also celebrate my first Mass prayerfully. But you know, again, when you are anointed, you are a priest, your Mass is going to be valid, so that gave me consolation, knowing I can be a bit distracted for my first Mass. The Lord still comes!
I celebrated my First Mass on September 4, 2022 at St. Thomas More Parish, in Edmonton. It is my parents' parish, where they attend as parishioners.
What are you looking forward to learning more about as a priest?
You know every day you learn something new! As a priest, we minister to people who come to us – and most of people who come to us and they already have faith – but what can we do to reach to those who do not have faith, our in society?
That is what I would like to learn – how can I be more effective not only with Catholics, but to those outside of the Church?
Also, I would like to work with young people and help with vocations and help to answer questions, to help them even to discern the natural vocation of marriage. I would like to learn from young people, because when I was growing up, my adolescence was much different from them.
Why were you ordained at the Basilica?
As a religious priest, I take vows, and those are for the religious order that I have joined as a Carmelite. But the sacrament of Holy Orders – being ordained as a priest – that is not limited to the religious order: that is for the whole Church.
So the proper place for my ordination to priesthood is the Cathedral. I was ordained as a deacon at our Carmelite centre, and that's OK for a religious. But for me, when I was ordained as a priest, I thought that the priesthood is for the whole Church, so I wanted to be ordained at the Basilica Cathedral. I was ordained on September 3, 2022 and I concelebrated that ordination Mass with the Archbishop.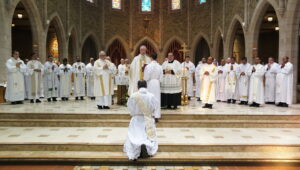 What has been your favourite part of being a priest over these first few months of your priesthood?
It's not easy to point out one aspect of the priesthood as my favourite, now that every aspect of my life comes under the umbrella of the priesthood.
However I love celebrating the Eucharist and it has been a great blessing for me to journey with the faithful in their spiritual life to help them and to learn a lot from them, especially through the sacrament of reconciliation. There are times when I feel, that all the difficulties, trials and waiting is worthwhile, just for that moment of reconciliation!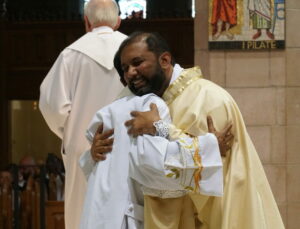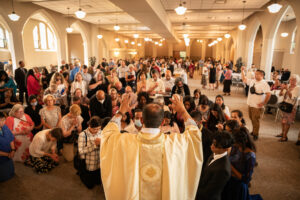 Father Sharma is currently serving at the Carmelite Spirituality Center outside of Edmonton where he is offering spiritual direction and retreats, while offering support to the Archdiocese, as support is needed.
Please pray for Father Sharma as he continues to offer the gift of his priesthood to the Archdiocese of Edmonton.
To watch our feature video with Father Sharma: https://youtu.be/OZfLG1rfh9g
Jenny Connelly – Archdiocese of Edmonton