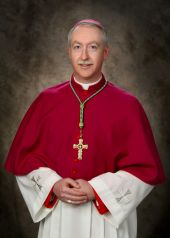 Archbishop Richard W. Smith was born in Halifax, Nova Scotia on April 28, 1959. He studied at St. Mary's University and at the Atlantic School of Theology in Halifax. Ordained to the priesthood on May 23, 1987, he pursued further studies in Theology at the Pontifical Gregorian University in Rome and earned a Licence in 1993 and a Doctorate in 1998.
After some fruitful years of ministry in the Archdiocese of Halifax, he was appointed Bishop of Pembroke on April 27, 2002 and ordained to the episcopate on June 18, 2002. Pope Benedict XVI , on March 22, 2007, appointed him to the Metropolitan See of Edmonton.
Archbishop Richard Smith was formally installed as seventh Archbishop of Edmonton on Tuesday, May 1, 2007, Feast of St. Joseph the Worker.
He serves as President of the Catholic Bishops of Alberta and the Northwest Territories, and is past president of the Canadian Conference of Catholic Bishops.
The Archbishop's Coat of Arms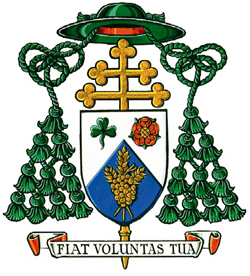 History
Heraldry originated about a thousand years ago in Europe, where it was used by the warrior classes as a means of differentiating combatants on the field of battle. As Europe developed and the feudal warrior class disappeared, the practice of identifying one's possessions with personal emblems flourished. Ecclesiastical heraldry grew out of this practice, initially to differentiate between the various degrees of the clerical estate. The Pope and most bishops adopt a personal coat of arms, which today is used primarily to identify communications from their particular office. Archbishop Richard Smith adopted his personal coat of arms when he was appointed Bishop of Pembroke, Ontario.
Symbolism
The symbols of the upper portion of the shield represent the family origins of Archbishop Smith. The rose stands for his English (Smith) descent: and the shamrock for his Irish (Butts) ancestry. Symbolized in the lower section are the mainstays of his life in Christ. The wheat and grape signify the Eucharist, the source and summit of the Christian Life (cf. Sacrosanctum concilium, 10). The blue background honours the Blessed Virgin Mary, "our mother in the order of grace" (Lumen gentium, 61).