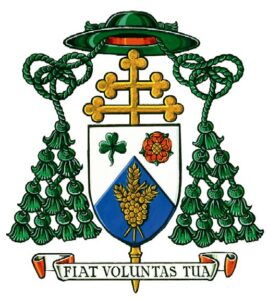 Christmas Letter 2022
Hello everyone,
In just a few days we celebrate the birth of our Lord and Saviour. On Christmas morning, we will hear the wonderful words from the Gospel of St. John: "The word was made flesh."
Download the Archbishop's Christmas Message
The Christmas Liturgies: Archbishop Smith shares his perspective, and his Christmas memories
I want to thank each and every one of you for your continued efforts as we live out our mission to share this Good News, especially this year when we received the Holy Father on his penitential journey to Canada. Know that I appreciate the long hours and hard work that made this visit a tremendous success.
I also appreciate that Christmas season can be a stressful time. It can produce a heightened sense of anxiety, whether it's related to family dynamics, the rush of holiday planning, economic or health uncertainty.
In times of trouble, we turn to Sacred Scripture. St. Paul reminds us: Don't be anxious. The Lord is near. And Jesus himself tells us, numerous times: "Do not be afraid".
Granted, it's not easy. When we are faced with situations that cause us great stress or worry, when faced with the choice between faith or fear, we are reminded of what we should do: Trust in the love of Jesus. It is the Lord who carries us through any difficulty.
If it brings some comfort, please listen to my own thoughts on a Eucharistic approach to anxiety in this episode of my podcast.
Wishing you a blessed Christmas,
Most Reverend Richard W. Smith
December 23rd, 2022